I have given up on wearing hair accessories. My hair is super thin and all clips and headbands seem to slip out of place within a matter of minutes. I know that the same problem happens with many babies and toddlers because they are so active.
The
Family Review Network
introduced me to
LemonHead Kidz
.
This company was created by a mom who was having problems finding a clip that would stay in her daughter's fine hair. Her daughter would also take those cute hair accessories and pull the embellishments off of them. Out of sheer frustration, she came up with hair accessories that stay put on any type of hair.
I was sent an adorable black
Bandeez
Headband and a pink
Clipeez
.
I am so excited to put the pink Clipeez in my own little girl's hair! No matter how fine her hair may be, I know that it will stay in her hair because of the Gripstrip that it has on the actual clip. I can rest easy that she wont be able to take them apart because these clips are made to last. I pulled on the flower and it didn't budge.
But, she's not here yet and Evan was more than happy to model. I'm going to love showing his girlfriends pictures like these one day! He even forgot it was in there and played and jumped around for about an hour with it in there. It didn't move AT ALL.
This is a picture from their website showing that women, children, AND babies can all enjoy hair accessories from LemonHead Kidz.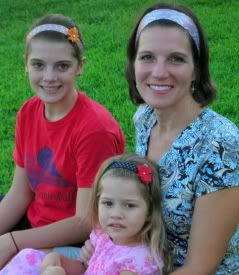 As my little girl gets older we can share the Headband. I wore the headband a few days ago and it didn't move! It has Velcro on one side that ensures that it will stay in my hair. I haven't worn a headband in years because they would just slip back and I would have to take it out anyway. Now I know that I can get more Bandeez Headbands from LemonHead to match my other outfits.
LemonHead is a great place to get hair accessories if you're like me and have fine hair or even if you just want cute clips! If your daughter is ruining her clips or they wont stay in her hair, LemonHead Kidz is for you. If you have a daughter, you can share them and get more bang for your bucks!
Buy It!
LemonHead Kidz
carries a variety of widths and styles starting at just a few dollars.