Please feel free to link up to as many of your giveaways as you'd like. If you linked up last week and your giveaway is still going on, please link up again!
If you could let other people know that I'm doing this, I'd really appreciate it. It's not mandatory, but it would be great if you could add my button to your blog or send a tweet out to get people here and post their giveaways!
As always, don't forget about entering my giveaways! This week I am posting some fantastic giveaways for babies and children so be sure to keep checking back!
On April 27th, my Mother's Day event begins and there will be over 20 amazing giveaways!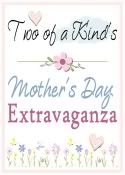 Here is a list of my current giveaways!
-
Yoplait Get Active Prize Pack-THREE winners
(ends 4/22)
-
Onesie Of Your Choice from K.C. Fuzzy
(ends 4/24)
-
O Yikes! Accessory of choice and onesie
(ends 4/26)
-
World Championship Game For Nintendo DS
(ends 4/28)
-
Phil And Teds Traveller Travel Cot
(ends 5/9)
-
Personalized Item Of Choice From Frecklebox
(ends 5/9)
After you've linked up, be sure to check out all of the other great giveaways!