Our play group decided to do an Easter Egg Hunt with the kids. I had no clue if he was going to actually pick up the eggs, but I was excited to see what he'd do. Hubby even got off early to go with us!
He didn't understand what to do at first. He thought that he could push his Easter Basket like a car, but that didn't work. Hubby showed him how to put the eggs in his basket and after that he was a pro!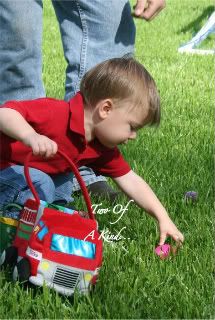 It had rained the day before so I put his rain boots on him.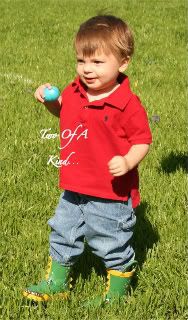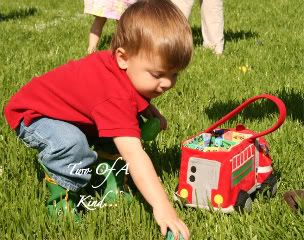 After the Egg Hunt, the Easter Bunny made a surprise visit! I really thought that he would be scared, but he LOVES the Easter Bunny! He kept going up and talking to him. The poor Easter Bunny probably got at least 50 high fives from my kid!
I think that Evan was telling him something really important in this picture.
And is it just me, or are the Easter Bunny's teeth a little freaky?
He didn't realize until later that night that the eggs actually had candy in them. Since then, he has looked for eggs everywhere we go!