We are always on the lookout for new educational shows that Evan may like to watch! If he's going to be watching TV, we want it to be something that he can learn from.
Dive Olly Dive
is a new show that can be seen on PBS Kids Sprout and Kabillion Jr. The first DVD will be available on April 28th.
We were sent a copy of the new DVD, The Adventure Begins In The Sea.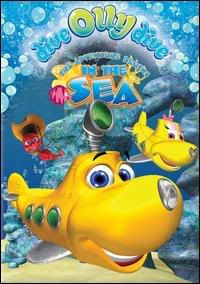 Dive Olly Dive follows Olly, a friendly research submarine, on all of his adventures. His best friend is Beth who is also a submarine. There are many other characters such as Scuba Doug who helps the young submarines.
Our DVD had 5 different adventures that lasted about 55 minutes.
-Hide And Seaweed
-Whale Call
-Skid's Stuff
-Friends 4Ever!
-Uma Under The Weather
Not only does Dive Olly Dive teach about different creatures and other things under the sea, but it also teaches lessons. With Olly being so young, he is also learning what the right thing to do is in many situations.
Olly and his friends are amazingly cute and entertaining. Evan and I sat down and watched the whole DVD together. He really likes fish and kept pointing them out to me. I even enjoyed watching Dive Olly Dive and will encourage Evan to watch this show.
There were no dull moments with Olly. He and his friends had tons of adventures and we were always waiting to see what would happen next. You and your children will both enjoy watching Dive Olly Dive!
Buy It!
Dive Olly Dive's first DVD, The Adventure Begins In The Sea, will be available April 28th.