Yeah, I know-Easter was almost a week ago and I'm just now posting these pictures. Better late than never, right?
I was so excited to color eggs with our little man. I thought he'd have a blast and I'd get some cute pictures.
Here are the eggs that we started with.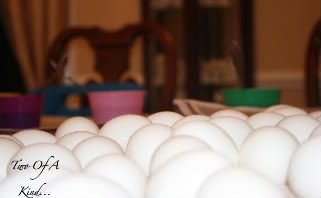 He was so excited to figure out what was going on!
We even got a family picture...with him eating a crayon.
THEN came the color. There was a spoon, so he thought it was "nummys"(food). He kept saying "Nummy, Nummy, Nummy"! Then he got mad at us because we told him that he couldn't eat it. He tried anyway-see the green on his chin?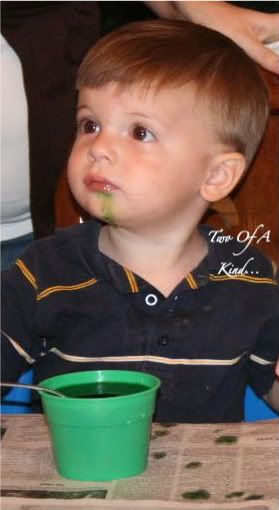 So we took an extra cup and filled it with water and let him go. He was not gentle at all-see the egg-being tossed OVER the cup?
We also had the option of painting them. That part went OK-until he tried putting that in his mouth too.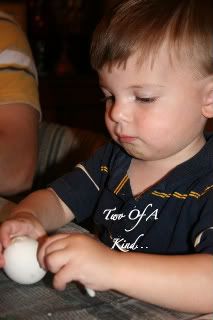 The front two are the eggs that he colored. The one on the left is the egg that was being tossed in a previous picture!
For some reason I didn't take many pictures on Easter day so I'll include those in this post.
In the morning we went to early service at church so we had to hurry and do Easter Bunny. Did you notice his wild bed head?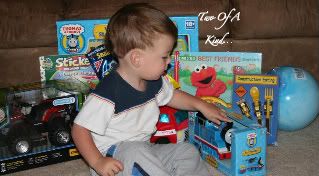 Here he is later in the day pushing the bubble mower that the Easter Bunny at my mom's house brought him!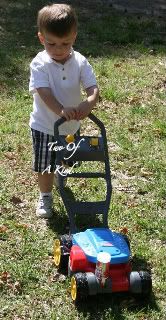 And that's it! I'm am usually taking tons of pictures, but I was completely slack on Easter!
I'll post the Easter Egg Hunt pictures in a little while along with the Easter Bunny pictures.