I'm sure by now most of you are aware that it is Earth Day. We're all trying to find easy ways to make the switch to a "greener" lifestyle. Using green products for your spring cleaning would be a great way to start!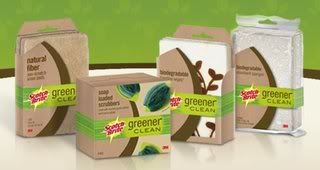 With the NEW
Scotch-Brite Greener Clean
, you can start introducing environmentally friendly cleaning products into your house!
Scotch-Brite sent us these amazing products. They are all made from 100% natural materials such as bamboo, agave, and corn!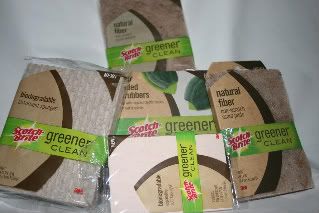 Since making the switch to these Scotch-Brite products, I haven't had to use as many disposable cleaning products. The biodegradable absorbent sponges even take the place of paper towels! At only $2 for a pack of 2, you will save money AND the environment.
The natural Fiber Non-Scratch Scrub Sponges and Pads are fantastic! They are just over $4 for a pack of 2. The rough part is made from 50% natural agave and doesn't scratch my dishes! I use them both to get the the really stuck-on messes off before I put them in the dishwasher.
My mom even took some of my Soap Loaded Scrubbers. For just over $2 you get a pack of six. They were actually made from recycled plastic bottles!! Just one 12oz bottle makes 6 of these! I have been using these daily on the pots and pans that I need to scrub.
I think we're all intrigued by the Biodegradable Expanding Soft Sponge. I love them because they take up less space when being stored. They come in a pack of for $2.50 and all 3 are smaller than one regular size sponge. They expand with water and can be used over and over again.
I am trying my best to be more environmentally friendly and these are helping me accomplish that. Let's face it, you have to use many of these products almost daily-why not make the switch with me to the Scotch-Brite Greener Clean Products?