I think by now you all know-It's a GIRL! Ever since I found out, I've been completely wrapped up in searching for cute "girly" items for her room.
Carousel Designs carries some absolutely adorable
baby bedding
! The pictures on their website and catalog have given me so many great ideas for nursery possibilities.
They even have a great tool where you can create your own
custom crib bedding
. You choose the parts that you want on the crib and then choose the fabrics that you think would look best.
With over 100 different fabrics for their baby and toddler bedding, your choices are endless. If you're not quite sure about how a certain fabric will look in person, you can have a
swatch
sent to you!
You can purchase the collections together or in separate pieces if you're designing a look for your own bedding. Many of the pictures on Carousel Designs are taken in a room that is decorated to match the bedding so you are exposed to different ideas. They have collections that are targeted for boy, girl, and gender neutral rooms.
This is one of my favorite
baby girl rooms
.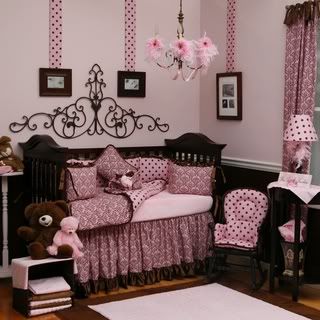 Isn't this
baby boy's room
just too cute?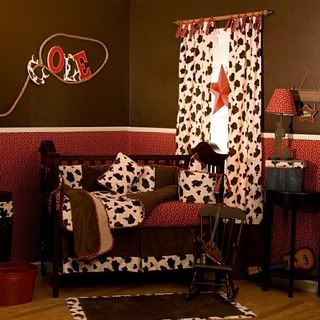 I was sent this
Pink and Chocolate Damask Crib Blanket
.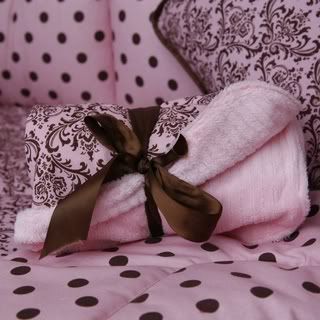 As you can see from the picture, it is absolutely gorgeous. I love that it is just brown and pink and has no other "theme" to it. There are unlimited possibilities that you could do for a nursery where you only had to worry about matching colors.
The pink minky chenille side is so incredibly soft. What baby wouldn't feel all cozy under this blanket?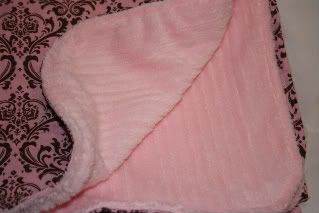 I love that it is 34"x43". It is big enough where she won't outgrow it in just a few months. I can see myself wrapping my baby girl up in this blanket for months after she gets here.
This beautiful blanket will double as a prop for pictures! How cute will she be on this blanket? The design and colors will bring so much to any pictures that are taken with it.
I still have a few months before she gets here, but I need to decide what I'm going to do with her nursery. This blanket is sitting in her room encouraging me to get creative. Because of Carousel Designs, I have been inspired to do something great with her room!
Buy It
Carousel Designs
has many items for sale that will be perfect for any baby! The
Pink and Chocolate Damask Crib Blanket
is $69.