Yesterday I told you about a Nintendo DS game for adults called
Zenses Ocean
. Today I'm going to tell you about a game for ages 3 to 103.
Build-A-Bear Workshop A Friend Fur All Seasons
is a game for the whole family. If you have children that are a little older, they probably don't want to play games with their 3 year old sibling. This game brings the whole family together for some fun.
Up to four players can get in on this game so several of your children can play together or you can even join in. With 20 mini-games to play, this game will not get old. Several of the games even have surprises to keep your children on their toes.
This is a game they can also play by themselves. There are 2 different game modes where they can go on adventures int he 4 season-themed island or they can play the min-games in the playground mode. There are even secret treasure spots that you can find around the island that contain surprises.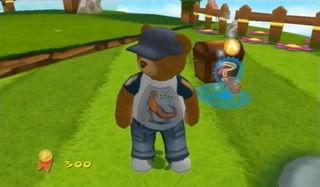 And it wouldn't be Build-A-Bear without the Workshop. You can collect bear medals and other rewards that can be used in the Build-A-Bear Workshop to get over 80 items that are available for your friend!
Is it sad that even I got a little competitive while playing this game? I got completely caught up in the game and forgot that I was playing a bunch of kids. Evan LOVES to hold the remote and play. It really caught his attention because of the adorable characters.
This is a cute, fun game that you won't mind playing over and over with your children.