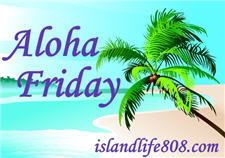 It's Aloha Friday again over at
An Island Life
! Answer my question and make sure you post one on your blog! After that, go relax because today is Friday!!
My question for this week is:
How often do you get groceries? Are they big trips or little ones?
I'm super cheap! I usually go once every 1-1 1/2 weeks and stock up on the BOGO deals and meat. I try to plan ahead make sure that I have enough stuff to make meals off of during the week. If we need something during the week that I forgot(or things like milk or bread), I try to send my hubby so I wont be tempted to buy a bunch!