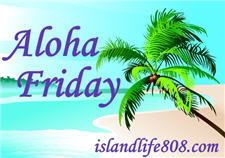 It's Aloha Friday again over at
An Island Life
! Answer my question and make sure you post one on your blog! After that, go relax because today is Friday!!
My question for this week is:
What size bed do you have?
We have a king size and have for the past 2 1/2 years. For our first year after we got married, we shared a double bed and I swore up and down that as soon as I had a chance, we would get a king size and never turn back! Call me crazy, but I need my space!