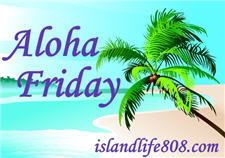 It's Aloha Friday again over at
An Island Life
! Answer my question and make sure you post one on your blog! After that, go relax because today is Friday!!
My question for this week is:
Do you consider yourself a leader or a follower?
I definitely think that I'm more of a leader. I take into account how other people will react or feel, but I'm still very much a leader. When I was little I was always given so much self confidence by my parents and family and I really think that is what made me the person I am today. I think that if you continue to tell someone they can do anything-they're going to believe it and not be afraid to take charge sometimes. I always have an opinion and am not scared to share it.