Anyone with a baby knows that bath time usually ends with Mommy or Daddy just as soaked as baby! You try and get the slippery baby out of the bath and hold a towel up against you at the same time. It just doesn't work. Either the towel slips and you have a wet tummy on your shirt or the water leaks through the towel and gets you anyway!

We don't get wet anymore during bath time. We have a
CozyCare Cape
to solve that problem.
The CozyCare Cape is just that, a cape. When bath time starts, just simply put it over your head. It has a waterproof panel on the back so that even if baby is soaking wet, it won't leak through on you!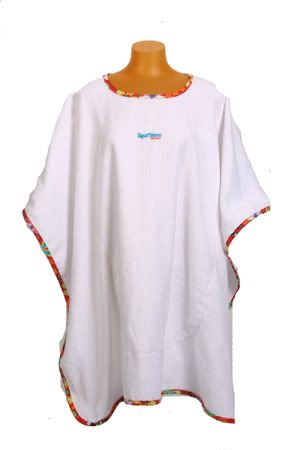 It even keeps you dry during the splashes! The CozyCare Cape is pretty large and covers your whole front.
If you wear it during the whole bath, your body acts as a towel warmer so you pick baby up and put it in a warm towel! Since its already around you, you don't have to fight with trying to hold the towel up AND pick baby up out of the tub.
They come in SIX different colors and can even have your baby's name embroidered on the front.
Spa Time Baby also carries other great products to make bath time easy.
-CozyCare Mats
-CozyCare Caps
-CozyCare Cloths
-Spa Sets
-Massage
-Natural Baby Skin Care
-Baby Bath Books
-And More!
Our Thoughts On The CozyCare Cape
We got received the Ducky Bubbles Cape.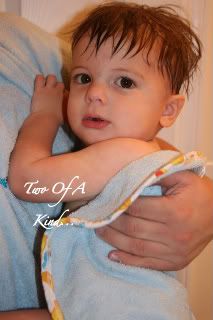 His bathroom is done in rubber ducks so it was the perfect choice for us! It is absolutely adorable and we could have had a name embroidered on it if we wanted to!
I knew that we'd get tons of use out of it with our baby that will be here in a few months, but we can use it with our toddler too! I thought he'd be too big for it, but it's actually ideal for him! He loves to splash and we are usually soaking wet at the end of bath time. The CozyCare Cape keeps us dry!
If you look in the bottom left of this picture, there is the waterproof backing. This makes it where no matter how much splashing there is, you stay dry!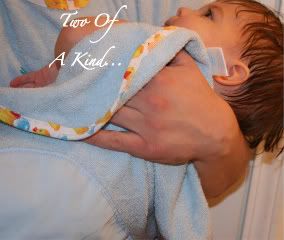 My husband and I have different ways of getting him out of the tub, but both ways result in us getting wet if we don't use the Cape. I try and tuck a towel under my chin, but that doesn't make it where the towel covers my whole front. Hubby lays the towel on the floor and then grabs him. BUT this makes for slippery baby and I'm scared he'll drop him, PLUS the water drips down his arms and still gets him wet!
The Cape makes it safer to get him out AND keeps us dry. Babies are slippery when you try to get them out of the bath and there is always a fear that you will let them slip. The CozyCape makes it where there is towel right there at your arm and so baby is safer!
BUY IT
You can purchase the
CozyCare Cape
for $38.95 without monogram and $48.95 with monogram.
WIN IT!!
One of my readers is going to win a CozyCare Cape of their choice!
To enter, visit
Spa Time Baby
and tell me which Cape you'd choose!
This is required and must be done before the extra entries count!EXTRA ENTRIES!
You can do any of these things for an extra entry. Make sure to leave a separate comment for EACH thing you do.
1- Subscribe to my blog via email. Type in your email address over to the left and hit submit! Don't forget to activate your account.
2- Follow my blog. Go over to my right sidebar and click on Follow This Blog! Current followers count too! Leave me a comment letting me know that you do!
3- For TWO extra entries, Blog about this giveaway and link it back to my blog AND
Spa Time Baby
.
4- For an extra entry EVERY DAY, Follow me on twitter AND tweet about this giveaway. Please leave me the link in your comment where you "tweeted" about the giveaway. Just following me does NOT count! You MUST "tweet" about this giveaway as well!
You can tweet as many times as you'd like for one extra entry EVERY DAY!!
5- Advertise on my blog through Entrecard.
6- Put my NEW button on your blog. If you have my old one, please take it down and put this one up! (Entry will not count if my old button is on your blog instead of my new one)!
7- For FIVE extra entries, Purchase anything from
Spa Time Baby
before the end of this giveaway.
Contest ends at 11:59pm EST on March 21th when I will draw a winner at random. PLEASE leave your email address if it is not visible on your profile. I will notify the winner on March 21st and they will have 36 hours to respond before I will choose a new winner!
Contest is open to ANYONE! That's right..no matter where you live...you can win!