I love baby blankets. Every baby needs quite a few to snuggle up in and then play with as they become toddlers. Every blanket that I own is soft, but made from products that aren't natural.
I have found the most amazing baby blanket. The
SHI SHU BABY
Blanket is 100% natural.
These blankets were created because the designer's son was allergic to those baby blankets with microfiber and polyester. She wanted to come up with a soft alternative for her sweet boy.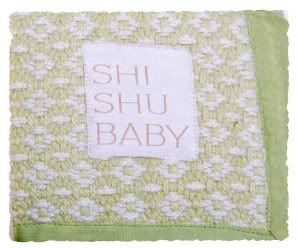 The SHI SHU BABY blankets are made from 60% cotton and 40% bamboo. The sateen trip is 100% bamboo.
They offer blankets and baby snugglers. The handwoven Baby Blankets are 30"x40" and the Baby Snugglers are 16"x16".
Once you feel this blanket, you'll want one for you! SHI SHU STYLE also carries the
Classic Weave Throw
that is 50"x60". It will be perfect for you to wrap up in.
We were sent a Celedon SHI SHU BABY Blanket. I'm glad that I decided on this color instead of the blue since now we're having a girl!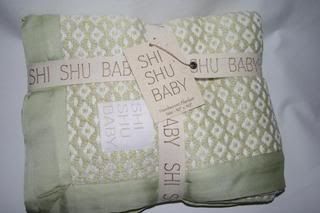 As soon as I took the blanket out, I immediately brought it to my face. I was amazed at how soft the blanket is. This blanket is heavy and will keep the baby warm, but because of the materials that are used, it allows the fabric to breathe.
The blanket comes to you folded and tied together. It looks absolutely amazing and would be a huge hit at any baby shower!
The SHI SHU BABY blanket will be something that you will end up cherishing forever. The quality is so fantastic that THIS will be the baby blanket that you want to keep as a reminder of your tiny baby.
As soft and natural as this blanket is, it will be the first choice for you and your baby. The SHI SHU BABY blanket will provide years of comfort for your child.
Buy It
The 30"x40" Handwoven
SHI SHU BABY
blanket is $88.
WIN IT!!!
SHI SHU STYLE is giving one of my readers a baby blanket.
To enter, visit
SHI SHU STYLE
and tell me what color blanket you would want AND what other color you think they should carry!
This is required for an entry into the giveaway and must be done before the extra entries count.EXTRA ENTRIES!
You can do any of these things for an extra entry. Make sure to leave a separate comment for EACH thing you do.
1- For TWO entries, Subscribe to my blog via email. Type in your email address over to the left and hit submit! Don't forget to activate your account.
2- Follow my blog. Go over to my right sidebar and click on Follow This Blog! Current followers count too! Leave me a comment letting me know that you do!
3- Put my Mother's Day Extravaganza Button on your blog to help me gear up for the big giveaway party(the code is on my left sidebar)!
4- For TWO extra entries, Blog about this giveaway and link it back to my blog AND
SHI SHU STYLE
!
5- For an extra entry EVERY DAY, Follow me on twitter AND tweet about this giveaway. Please leave me the link in your comment where you "tweeted" about the giveaway.
You can tweet as many times as you'd like for one extra entry EVERY DAY!!
6- For FIVE extra entries, purchase anything from
SHI SHU STYLE
before the end of this giveaway!
Contest ends at 11:59pm EST on April 13th when I will draw a winner at random. PLEASE leave your email address if it is not visible on your profile. I will notify the winner on April 14th and they will have 36 hours to respond before I will choose a new winner!
Open to EVERYONE! This IS an International Giveaway!