I really can't stand cleaning my bathroom and kitchen. It's not because I mind the scrubbing(OK..well I don't like doing that either), it's because the cleaners are usually so strong. I end up leaving the bathroom with a headache from all the fumes.
Thanks to
Family Review Network
and
Nature's Source
, I don't have to worry about that anymore.
Nature's Source is a new line of cleaning products by SC Johnson. This line is made with simple, biodegradable, plant-based cleaners. They are packaged in recyclable bottles and are free of ammonia, bleach, and phosphorus.
There is so much focus on being "green" and using products that are more natural, why not switch to cleaners that help achieve this goal? 81 of parents wish that making a natural home was easier. What is easier than using natural cleaning products?
This new line includes glass and surface cleaner, bathroom cleaner, all-purpose cleaner, and toilet bowl cleaner.
My Thoughts On Nature's Source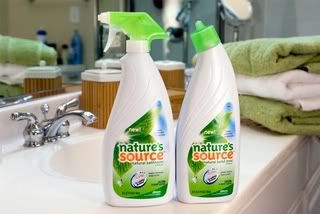 I was sent the bathroom cleaner which is perfect because we had just run out of scrubbing bubbles and my aunt was coming in from out of town.
In the past, I have sent my husband in to scrub the bath because I just can't handle all the chemicals. I am very sensitive to smells, especially while pregnant.
Since I was reviewing Nature's Source, I had to get my hands dirty. I took it upstairs to my toddler's bathroom and sprayed down the bathtub and shower. Not only was I amazed by how LIGHT the smell was, but the it was actually a PLEASANT smell.
I have never been in the position to say that any bathroom cleaner actually smells nice. Nature's source does. There are no harsh smells that make you scrub fast so you can get out of there before your eyes start watering.
I was worried that it might not clean very well, but I was wrong. It comes from the makers of Scrubbing Bubbles and they made sure that this works just as well! After I sprayed it over the surface, I let it sit for just a few minutes and then scrubbed. Everything came sparkling clean with minimal effort AND it smelled fantastic! I even stayed in there long enough to clean the sink and potty!
BUY IT
You can purchase Nature's Source Bathroom Cleaner for $3.49. I'm pretty sure that I saw a coupon in Sunday's paper!
WIN IT!!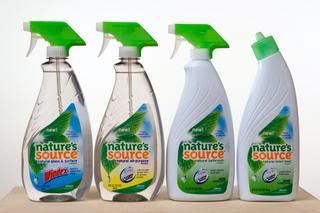 Nature's Source is sending a cleaner to one of my readers!
To enter, visit
Nature's Source
and tell me which product you think you'd use the most!
This is required and must be done before the extra entries count!EXTRA ENTRIES!
You can do any of these things for an extra entry. Make sure to leave a separate comment for EACH thing you do.
1- Subscribe to my blog via email. Type in your email address over to the left and hit submit! Don't forget to activate your account.
2- Put my new button on your blog! If you have my old Two Of A Kind Button on your blog, take it down and replace it with the NEW one! THANKS!!
3- Follow my blog. Go over to my right sidebar and click on Follow This Blog! Current followers count too! Leave me a comment letting me know that you do!
4- For TWO extra entries, Blog about this giveaway and link it back to my blog AND
Nature's Source
!
5- Follow me on twitter AND tweet about this giveaway. Please leave me the link in your comment where you "tweeted" about the giveaway. Just following me does NOT count! You MUST "tweet" about this giveaway as well!
Contest ends at 11:59pm EST on March 18th when I will draw a winner at random. PLEASE leave your email address if it is not visible on your profile. I will notify the winner on March 19th and they will have 36 hours to respond before I will choose a new winner!
Contest is open to US ONLY