I am always in search of products that are fun for Evan and help with his education. I believe that since I stay home with him, I should try and take advantage of any opportunity to help him learn and get him ready for school.
Even though he's so young, he is still able to learn from everything that he does!
Mudpuppy
has a fantastic selection of toys and other educational products to help your children get a jump start on learning.
Ring Flash Cards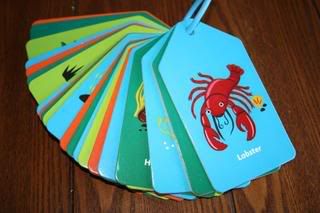 Flash cards were always the easiest way for me to learn. Even when I was in College for Nursing I would make up flash cards and quiz myself. If you continue to see the same information over and over again, it's going to sink in.
Mudpuppy
carries sets of flash cards to teach children everything from ABCs to Rhyme Time. Each set comes with 26 5" x 2-1/4" two sided cards.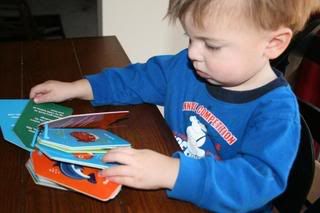 We received the Under The Sea set. Each card has a creature that lives under the sea pictured on one side with facts about that sea creature on the other side. We've only had them a week, but Evan already knows to say shark instead of fish.
Right now we're just learning what the names of the creatures are. As he gets older he will learn the facts about each one. We can easily learn these before he starts preschool in the next few years and he will already have a head start on learning about things under the sea.
The Ring Flash Cards are meant for children over three but I think you can start teaching your children with these long before they turn three! I want to get him all of the sets that Mudpuppy carries.
Sticker Play Scenes
Imagination is one of the best ways children can express themselves. The
Sticker Play Scenes
have over 50 reusable vinyl stickers that children can use to recreate different scenes.
Mudpuppy carries several different themes including Rush Hour and Ballerinas. The Original Play Scenes are 9" x 12" closed fold up and have a handle for easy transportation. They now have Mini Play Scenes that measure 7-3/4" x 8"closed.
We received the Pirate Play Scene.
Even though my little man is a little young to use the stickers to act out different adventures, he is still learning other simple skills. He has learned to take the stickers off of the pages and place them wherever he wants.
Every time he puts a new one on the board he claps and smiles. He knows that he can do as he pleases with the stickers. If he wants to put the fish on the land, he can do that. Right now he's just having a good time taking the stickers and placing them in the spot he thinks is best.
As he gets older, these will be great to take in the car on road trips. He will be able to entertain himself for quite a while with acting out different adventures with his pirates. The pirates even come with different accessories such as a hood arm and peg leg that he can change up if he wants to.
Other items Mudpuppy Carries
The Ring Flash Cards and Sticker Play Scenes are just two of the many items Mudpuppy carries. A few other products include:
-Puzzles
-Money Banks
-Magnetic Figures
-Journals
-Books
-Games
-Stationary
-And MUCH More
Buy It
You can purchase a set of Ring Flash Cards for $12 and the 9 x 12" Sticker Play Scenes are $13.00.
WIN IT!!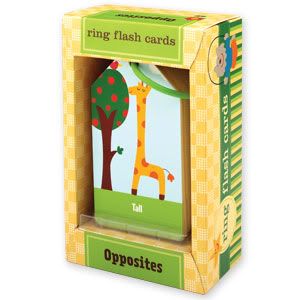 Mudpuppy is offering a set of Ring Flash Cards to one of my readers. The winner will get to choose which set they'd like.
To enter, visit
Mudpuppy
and tell me something else that you'd want.
This is required and must be done before the extra entries count!EXTRA ENTRIES!
You can do any of these things for an extra entry. Make sure to leave a separate comment for EACH thing you do.
1- Subscribe to my blog via email. Type in your email address over to the left and hit submit! Don't forget to activate your account.
2- Put my new button on your blog! If you have my old Two Of A Kind Button on your blog, take it down and replace it with the NEW one! THANKS!!
3- Follow my blog. Go over to my right sidebar and click on Follow This Blog! Current followers count too! Leave me a comment letting me know that you do!
4- For TWO extra entries, Blog about this giveaway and link it back to my blog AND
Mudpuppy
!
5- Follow me on twitter AND tweet about this giveaway. Please leave me the link in your comment where you "tweeted" about the giveaway. Just following me does NOT count! You MUST "tweet" about this giveaway as well!
6- For FIVE extra entries, purchase anything from
Mudpuppy
before the end of this giveaway!
Contest ends at 11:59pm EST on March 18th when I will draw a winner at random. PLEASE leave your email address if it is not visible on your profile. I will notify the winner on March 19th and they will have 36 hours to respond before I will choose a new winner!
Contest is open to US ONLY