I never had any sort of Baby Sleeping bag with my first. It is so much safer than a blanket and is a must for cool nights.
Keen Distribution
carries a fantastic Grobag Baby Sleeping Bag.
In fact, they carry a Grobag Safe Sleep System to keep your baby safe and happy! The system includes:
-
baby sleeping bags
-
Temperature egg
-
swaddling wrap
They carry a few other fun products that you have to go check out!
The Grobag sleeping bags were created from necessity. The founders, Rob and Ouvrielle Holmes saw that their son was always kicking off his blankets and knew they had to come up with something better.
With the sleeping bag, you don't have to worry about your baby getting caught in their blankets. The Grobag sleeping bag keeps your baby warm AND safe!
They come in many different fabrics and togs. Tog is the European warmth ratio that makes it where you select the right bag for the right season. The Grobag baby sleeping bag even comes with a thermometer that lets you know what tog you need to be using.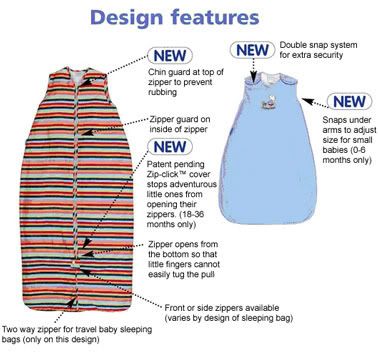 They are available in woven cotton, organic cotton, soft cotton jersey, luxurious velour, and soft anti-pill fleece.
To learn more about the sizes and tog that you will need, click
here
.
Our Thoughts
I got a grobag Baby Sleeping Bag in a 6-18 month size with a 1.0 tog. I wanted to be able to try it out on my toddler and thought it would be perfect for when this baby is 6 months old since it will be winter.
My little man is 19 months old and he could still fit in the 6-18 month size. If he was a chunky baby, he would have had to go with the next size up.
I immediately fell in love with it because the zipper. As you can see in this picture, when it its fully zipped, the actual zipper is at the bottom so the baby can't open it themselves and the zipper is away from their face.
Evan always kicks off his blanket. In the cooler months, I dress him pretty warm but still wonder if he's too cool. With the Grobag baby sleeping bag, I KNOW he's warm enough.
He was intrigued by the sleeping bag and was excited to wear it. I was worried that since he wasn't used to it that he wouldn't wear it. He did and he stayed warm!
It was hard for me to choose which one to go with because there are so many amazing choices! Usually there is a limited amount of cute fabrics for boys, but Grobag has tons of great options! Be sure that you get at least two of these so that you can still have one if the other is in the wash!
Buy It
There are a variety of
styles and fabrics
available starting at $34.99.
WIN IT!!!
Keen is giving a Grobag Baby Sleeping Bag to one of my readers. You get to choose the size and tog. If it's for a girl, you will get the Molly Mouse and for a boy you will get a Robbie Robot.
To enter, visit
Keen
and tell me what size and tog you want and if this is for a boy or girl!
This is required for an entry into the giveaway and must be done before the extra entries count.EXTRA ENTRIES!
You can do any of these things for an extra entry. Make sure to leave a separate comment for EACH thing you do.
1- For TWO entries, Subscribe to my blog via email. Type in your email address over to the left and hit submit! Don't forget to activate your account.
2- Follow my blog. Go over to my right sidebar and click on Follow This Blog! Current followers count too! Leave me a comment letting me know that you do!
3- Put my Mother's Day Extravaganza Button on your blog to help me gear up for the big giveaway party(the code is on my left sidebar)!
4- For TWO extra entries, Blog about this giveaway and link it back to my blog AND
Keen Distribution
!
5- For an extra entry EVERY DAY, Follow me on twitter AND tweet about this giveaway. Please leave me the link in your comment where you "tweeted" about the giveaway.
You can tweet as many times as you'd like for one extra entry EVERY DAY!!
6- For FIVE extra entries, purchase anything from
Keen Distribution
before the end of this giveaway!
Contest ends at 11:59pm EST on April 10th when I will draw a winner at random. PLEASE leave your email address if it is not visible on your profile. I will notify the winner on April 11th and they will have 36 hours to respond before I will choose a new winner!
Open to US Only!