If you've ever wondered if you're parenting is messing up your child's life, I have a pretty good guide for you.
How To Mess Up Your Child's Life is a book full of proven strategies and practical tips by Olivia and Kurt Bruner.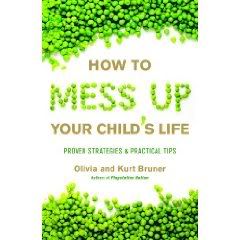 This book takes seven different skills(AKA the seven deadly sins) that you can encourage to mess up your child and explains to you the best way to teach them these sins. As a precaution, this book also gives different techniques on guiding you to teach your child how to NOT use these "talents" in everyday life.
In reality, How To Mess up Your Child's Life brings a humorous approach to different bad habits that children are learning. Each chapter first tells you how to instill these habits in your child, and then tells you different ways to teach your child how these things are wrong. It also includes verses to show what the bible says. The chapters are titled in a fun way to grab your attention such as Discouraging Frivolous Generosity(Deadly Sin: Greed).
I really enjoyed this book. I dread reading some "parenting" books because they are simply boring. How To Mess Up Your Child's Life made me smile and think all at the same time.
My favorite part was the different exercises that you can do with your child to teach them how to be better people. The one that really sticks out in my mind was in the anger chapter. Your children can squirt out toothpaste and after its all out, you tell them that you will give $20 to the first child that can get it all back in the tube. Once they realize that they can't do it, tell them that is what happens when words start coming out of your mouth. If you speak in anger, you can't take it back.
I think this is a great book to help any parent teach their children values and morals.
Buy It
You can purchase
How To Mess Up Your Child's Life
for $10.18 on Amazon.
WIN IT!!!
One of my readers is going to win their own copy of How To Mess Up Your Child's Life
To enter, tell me something you want to teach your child(such as not to have a temper).
This is required for an entry into the giveaway and must be done before the extra entries count.EXTRA ENTRIES!
You can do any of these things for an extra entry. Make sure to leave a separate comment for EACH thing you do.
1- For TWO entries, Subscribe to my blog via email. Type in your email address over to the left and hit submit! Don't forget to activate your account.
2- Follow my blog. Go over to my right sidebar and click on Follow This Blog! Current followers count too! Leave me a comment letting me know that you do!
3- Put my Two Of A Kind, Working On A full House button on your blog.
4- Put my Mother's Day Button on your blog
5- Follow me on twitter.
6- Tweet about this giveaway. Please leave the link to your "tweet" in a comment.
7- Fav me on technorati(click on the green button on my right sidebar).
Contest ends at 11:59pm EST on April 18th when I will draw a winner at random. PLEASE leave your email address if it is not visible on your profile. I will notify the winner and they will have 36 hours to respond before I will choose a new winner!
Open to US ONLY!