Earlier today I posted about how important I think it is for my little man to be able to read all the time. Not only does it teach them great habits early on, but they can also learn so much through these books.
Another new book that we received is Go! Go! Go! This amazing book by Roxie Munro has over 70 flaps for your child to discover.
Each page has a fascinating adventure on it. Follow a firetruck as it rushes down the street to do his job, a few pages later there is a submarine taking an adventure under the sea!
This book is full of things that Go! Go! GO! Your child will learn so much in these pages. There is so much to discover behind all of those flaps!
Our thoughts on GO! GO! GO!
This book is so much fun to read. There is no need for lengthy explanations on how each thing works, you just use to flaps to explore them yourself!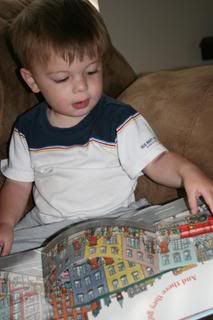 Obviously, my son LOVED this book. There are just so many adventures on every page. We've had so much fun uncovering each flap to see what is happening underneath it.
Even at 23, I found this book completely entertaining! I was impressed with how they were able to tell what each thing did by following the flaps. Even at my son's young age, he is able to understand what they do because they are illustrated right in front of him. No long, boring description for him to get lost in!
This is a book that I would recommend to any parent! There is just too much in this book to learn!
BUY IT!
You can purchase
Go! Go! Go!
at Target for $12.44!