I can't count how many times I've had to retake a temperature because my son wouldn't stay still long enough. I've even tried two different "fast" thermometers but 10 seconds to a toddler(worse for a SICK toddler) is an eternity.
The Family Review Network
gave me the opportunity to test out the
Exergen TemporalScanner
.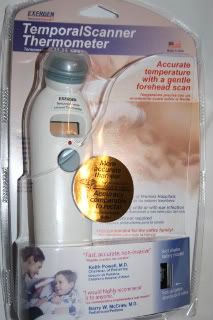 The Exergen TemporalScanner is the world's first infrared thermometer that measures the body's temperature from the temporal artery. After 2-3 seconds, you have a completely accurate temperature.
It is easier to get a false reading from taking your temperature under the arm, orally, or in the ear because of outside factors. If you drink anything, you have to wait for a correct reading and the amount of clothing you wear could alter the temperature under the arm. Many times the ear thermometers are positioned incorrectly during the reading and can be misleading.
The Exergen TemporalScanner
is the fastest, most accurate way to measure body temperature. Even if there is perspiration on the forehead, you can place the probe on the back of the neck to get a reading.
To use, simply place the probe on the forehead, hold down the scan button and slide over to the hairline. Within 2-3 seconds it will beep letting you know the scan is over. Release the scan button and take the thermometer away from the head when it reaches the hairline. It even has an automatic shut off after 30 seconds.
It is the only Thermometer made in the US and is better for the environment since it uses infrared sensor technology and contains no mercury. The Exergen TemporalScanner runs on one 9-volt battery and meets all regulatory requirements.
Our Thoughts
The Exergen TemporalScanner is AMAZING! I don't think it even took 2-3 seconds for the reading to be complete. It was accurate and we were done before my toddler even knew what we were doing.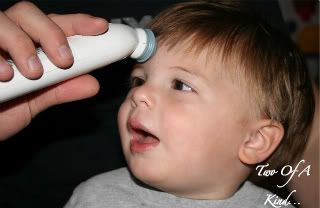 I'm going to tell on my husband. I gave him the thermometer to use and he didn't take the cap off. He kept telling me it was too low and something was wrong with it. I took it from him and saw the cap was still on. We had a good laugh over it. So AFTER the cap was taken off, it worked perfectly.
Our toddler was completely intrigued with it and didn't move. It was pretty much over as soon as we touched it to his head. I really wish we would have had this last month when we were all sick!
I will never own another thermometer. I am absolutely impressed with the Exergen TemporalScanner and will tell everyone I know that they NEED one. Even if your children are older, or you don't have any kids at all-THIS is the thermometer for you. You don't have to worry about whether or not you just drank something to alter the reading or how long you're going to have to keep it in your mouth while not being able to breath because of your stuffy nose.
Buy It
You can purchase the Exergen TemporalScanner in many places including BabiesRUs. Right now it is on sale for $49.99 at
BabiesRUs.com
.
WIN IT!!!
One of my readers is going to win their own
Exergen TemporalScanner
!
To enter, tell me who you think you would use this on the most.
This is required for an entry into the giveaway and must be done before the extra entries count.EXTRA ENTRIES!
You can do any of these things for an extra entry. Make sure to leave a separate comment for EACH thing you do.
1- For TWO entries, Subscribe to my blog via email. Type in your email address over to the left and hit submit! Don't forget to activate your account.
2- Follow my blog. Go over to my right sidebar and click on Follow This Blog! Current followers count too! Leave me a comment letting me know that you do!
3- Put my Mother's Day Extravaganza Button on your blog to help me gear up for the big giveaway party(the code is on my left sidebar)!
4- For TWO extra entries, Blog about this giveaway and link it back to my blog AND
Exergen
!
5- Follow me on twitter AND tweet about this giveaway.
6- Favorite my blog on Technorati(click on the green button on my right sidebar).
Contest ends at 11:59pm EST on April 13th when I will draw a winner at random. PLEASE leave your email address if it is not visible on your profile. I will notify the winner on April 14th and they will have 36 hours to respond before I will choose a new winner!
Open to US ONLY!