The sad truth is that most days Evan and I hang out in our pjs. We just like being comfortable and what is the point of changing if we're not going anywhere?

Why not be comfortable even when you go out? The mom behind the creation of
Cottonseed Clothing Company
had the same idea in mind.
She was tired of having to search for a solid color shirt to match different bottoms that she had. She decided to do something about it and now carries 24 solid colors that are sure to match any bottom that you have!
You can now find a shirt to match that skirt with the odd color that you haven't been able to find a top to for your little angel! And she'll be completely comfortable while wearing these shirts because they are 100% cotton and so soft!
You can let your child be as hard on these shirts as they want. The quality is absolutely fantastic. I don't know how many thin shirts we've had tear. Cottonseed shirts are thick and will last through whatever your toddler can do to it!
We got this green color for my son. He can wear it with jeans or a pair of shorts that has this color green as one of the stripes! In this picture he's wearing it with a random pair of pj pants because it was raining and we were just staying inside all day.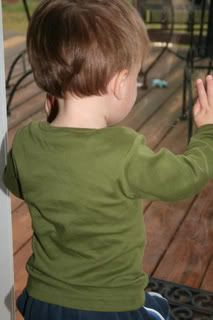 It feels great up to the skin and allows him to be comfort while playing. No toddler wants to be in a scratchy shirt just because its the only shirt you could find in that color. With Cottonseed you can shop for the color that you need online and be done with it!
Buy It!
Cottonseed Clothing Company
carriers short sleeve shirts, long sleeve shirts, and pants in 24 different solid colors for $16.00.