A few weeks ago I
posted
that I was thinking about doing cloth diapers with this baby. You all came through for me and gave me some great advice and told me how cloth diapers worked for you. There were also those of you that were in the same spot as me-wanting to cloth diaper but not knowing where to start!
Cotton Babies
sent me a
Bum Genius 3.0
One-Size diaper in the Moonbeam color to try out on my toddler. I was thrilled to get a chance to try one out because many of you actually recommended the Bum Genius diapers.

Now, if you have never been to
Cotton Babies
, you've got to go! They have a crazy amount of information to share with you about cloth diapers. Its a great place to go if you're just getting started, or even if you are a veteran with the cloth diapers and want to talk to other moms!
That's right, they even have a
forum
! It makes you feel like you are definitely not alone in this! Many people in my life think I'm crazy for wanting to cloth diaper, but I have found out that it is not as bad as many people think it is! It's actually pretty easy!
Cotton Babies
carry much more than just diapers, they also have tons of Baby Gear and products for Mom too! These products have a detailed description and many ratings from other moms so you can find out how these products worked after being tested!
If you click
HERE
, it will take you to a page that has information on everything from how to fold a prefold diaper to Moby Wrap instructions! Cotton Babies is just super informative!
Bum Genuis 3.0
This was my first experience with using cloth diapers on my son so I really didn't know what to expect. I knew that I was excited that I was getting the
Bum Genius 3.0 One-Size Diaper
because it will fit my toddler OR the newborn on the way.
For those of you who are like me and have no idea what comes with a cloth diaper, here it is.
This is one diaper and two inserts. The small insert is for small babies and then can later be used overnight with the regular one for extra absorbency. The regular insert is used on larger babies up until they are toddlers.
Before the first use you have to wash them to make sure they will have the best absorbency. I washed them with just a tiny bit of detergent and in cold water. Then I did the same with hot water. I then rinsed them again just to make sure all the detergent was gone. I learned all of this information plus everything else there is to know about the Bum Genius 3.0 on the Website
here
.
These are the different sizes that the Bum Genius 3.0 can be converted to.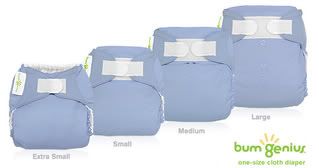 With my little man, we let all the snaps out and used it as the largest size. Here is a closer look at the snaps with him wearing it.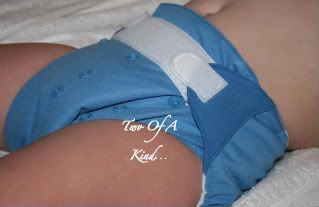 Since it fits most babies 7 pounds to 30 pounds, I wouldn't have to buy new sets of diapers every time the baby out grew the old ones. This is the only set of diapers I would ever have to buy and they come in 9 fun colors to choose from.
He didn't want to stay still for me to take pictures, but this was a shot of his backside so you can see that it's really not bulky and fits him very comfortably!
The outer fabric is waterproof and really soft. It is meant to keep the diaper looking really trim on the newborn setting on up to the toddler setting. This diaper really is fantastic!
When you're out in public and done with the diaper, just fold it up really small and fasten the tabs together. That way you can just throw it in your wetbag without making a huge mess!
Here are all the features of the Bum Genius 3.0.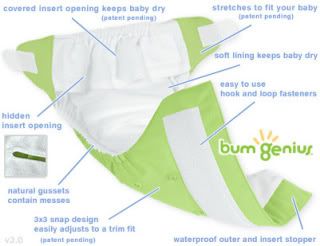 I think that I was most worried about washing them, but there is nothing to it! Just take the insert out and throw them both in the wash. I'm excited to use these diapers on this baby. But because they are one-size, I can also use them on my toddler!
My only concern would be the Velcro tabs. I have heard that some people have problems with them not sticking after a while, but the website says that if you use it correctly and fasten the tabs to the laundry tabs on the inside of the diaper you won't have that problem.
This is the only kind of diaper that I have tried, but I would definitely recommend it to anyone that was asking about cloth diapers. I think that it is most appealing because you only have to buy one size and it really isn't bulky. I thought that cloth diapers would be more bulky than this!
Buy It
You can buy these on the Cotton Baby website for $17.95. Also, here is a
list
of retailers that sell the Bum Genius 3.0 diapers in different states.