You remember Mother Goose, right? Little sayings your parents or grandparents would always be repeating? My grandad would say "To market, to market, to buy a fat pig." EVERY time we got in the car to go somewhere. It makes me smile to think about that today.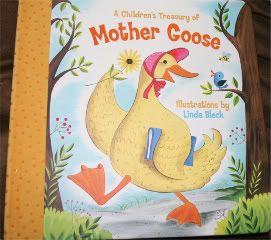 Why not share some of those same stories with your children? A Children's Treasury Of Mother Goose has many of those old stories that you will remember. It even had ones that I've never heard! Either way, I will have fun reciting these with my children.
Linda Bleck did an amazing job with the illustrations! The pages are filled with fun and whimsical characters from your favorite Mother Goose stories. The illustrations are even popped out a little so that you can actually FEEL the characters.
Children love fun little sayings and will have a blast learning these. You can make reading this book as fun as you'd like!
Our Thoughts.
This book brings back fond memories of growing up for me. I didn't have a book with any of these little stories in them to share with my children. I never even thought about it! Now I can start reading these to my son and we can have fun making up other silly little sayings.
Right now, he has fun reading it with me. He thinks it is hilarious for me to read the pages the way I do. I read to him in a sing song kind of way with this book and he thinks that is the best thing in the world! We even recite these pages while driving down the road.
He loves touching this book since some of the illustrations are raised from the page. He'll even take my hand to make me feel over the page. Not only is it teaching him the Mother Goose sayings, but since there are so many animals in this book, he uses it to remember his animals.
Even if you never read these as a child, it would be fun to start with your children or grandchildren!
BUY IT!
You can purchase A Children's Treasury Of Mother Goose for $12.95.