Have you ever been at the grocery store and went to put something in the car, then turned around to see your cart full of groceries(or worse-your child) rolling down the parking lot? I've been there!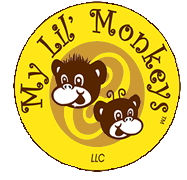 Thanks to
Family Review Network
and
Cart-Stopper
, I now have something to help me!
The mom behind the My Lil' Monkeys Cart-Stopper came up with this idea after her son rolled away in a shopping cart towards traffic. After months of testing, she and her husband started selling these fantastic products!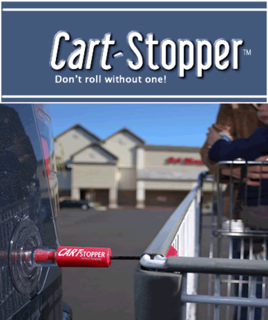 I've had a few close calls with the shopping carts as well. I've even developed certain skills like trying to balance one foot on the cart while loading groceries, but then I can only put 1-2 bags in the car at a time.
The Cart-Stopper has saved me so much time and hassle! It is so small that I can just throw it in the diaper bag to pull out when I get to my car. Within seconds, my cart is safely anchored to my car and I can unload my groceries and child so much easier. This is ESPECIALLY helpful now that I'm pregnant and can't chase after carts quite as fast.
At first I was a little worried about the suction on my car, but there was nothing to worry about. It is perfectly safe to use and now I have can unload the car without worrying about where my cart will end up!
Buy It!
You can purchase the
Cart-Stopper
in different colors for only $9.99!
WIN IT!!
My Lil Monkeys is giving a Cart-Stopper to one of my readers!
To enter, tell me if you've ever had any close calls with your shopping cart or witnessed someone else having cart troubles!
This is required and must be done before the extra entries count!EXTRA ENTRIES!
You can do any of these things for an extra entry. Make sure to leave a separate comment for EACH thing you do.
1- For TWO entries, Subscribe to my blog via email. Type in your email address over to the left and hit submit! Don't forget to activate your account.
2- Follow my blog. Go over to my right sidebar and click on Follow This Blog! Current followers count too! Leave me a comment letting me know that you do!
3- Put my Mother's Day Extravaganza Button on your blog to help me gear up for the big giveaway party(the code is on my left sidebar)!
4- For TWO extra entries, Blog about this giveaway and link it back to my blog AND
Cart Stopper
!
5- For an extra entry EVERY DAY, Follow me on twitter AND tweet about this giveaway. Please leave me the link in your comment where you "tweeted" about the giveaway. Just following me does NOT count! You MUST "tweet" about this giveaway as well!
You can tweet as many times as you'd like for one extra entry EVERY DAY!!
6- For FIVE extra entries, purchase a
Cart Stopper
before the end of this giveaway(your friends will thank you for one).
Contest ends at 11:59pm EST on April 6th when I will draw a winner at random. PLEASE leave your email address if it is not visible on your profile. I will notify the winner on April 7th and they will have 36 hours to respond before I will choose a new winner!
Open to US AND Canada!!