I'm not so creative when it comes to our children's rooms. I can't just come up with a fun design without seeing it already done. I throw up some paint and call it a day.

Thanks to The
Family Review Network
, I had a chance to review On The Farm
Wall Stickers
by
Bright Star Kids
.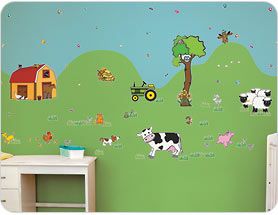 Bright Star Kids is an Australian business that carries many fun products. They have many different kinds of labels for everyday life and wall graphics to transform any room. They ensure that all of their products are made with the best quality. Because of their fantastic customer service, orders are ready to ship within 1-2 days.
I received 5 large sheets that were full of fun farm animals. The quality is absolutely amazing. These are not your normal, flimsy stickers. They are very thick and are made to hold up for a long time.
My favorite thing about these wall graphics is that you can take them with you when you move. I was pretty skeptical about just taking them off the wall when you're ready to take them with you so I tested it. I put the stickers up and tried to take one down a few days later. I had absolutely no problem with taking it off the wall.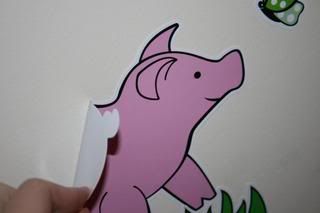 They have many other great themes that you can use for your rooms. If you're like me and have a problem with creativity for rooms, Bright Star Kids even has a
photo gallery
filled with different ways people used these stickers.
Not only are they easy to use, but they are absolutely adorable! The animals are so cute and colorful. These Wall Graphics would be a great addition to any room!
Buy It
You can purchase 5 sheets with 85 wall decals for $79.99.
Through April 25,
Bright Star Kids
is offering a 20% discount when you use the promotional code FAMILYREVIEW.