What kid doesn't like little figurines? They can use them to act out their imagination and have a blast!
This month
Bella Sara
is bringing The Miniatures series to children. There are 20 velvety soft figurines that they can trade, collect, and love!
Not only are they coming out with new figurines, but the eighth series in the Bella Sara Treasures collection will be revealed! There will be many new online activities to celebrate!
Until April 30th, Bella Sara is offering kids a chance to win an exciting Treasure Hunt Party on their website!!
If you're like me, you may have never heard of Bella Sara. It is a horse-themed card game that includes positive messages for girls that are 5-12. These cards can be used for kids to activate and play online in the safe world of
Bella Sara
! They will be able to do everything from playing games to caring for their horses.
They even have a parental controls section where you can decide what you want your child to do in the Bella Sara online world.
My Thoughts On Bella Sara
Each pack of cards contained 5 cards, a card checklist, a mini game, a tattoo card, and a sticker card.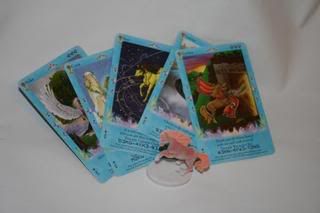 The cards had a picture with a saying such as "Choose to be with people who care about you." Then it had a code that you could use online to get horseshoes that allow you to play games and earn prizes!
Not only is your child sent on a fun online adventure, but they are told positive messages! I think any kid would find this exciting!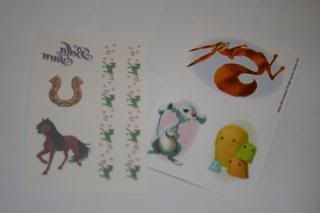 The figurines are small enough that you could uses as pieces to a game and come with a stand that you could use to display your collection. With 20 to acquire, the fun never ends!
Bella Sara has become the most successful trading card product ever developed for girls! There are just so many things that children can do with these products and then they take it to a whole new level online! I think I would have really enjoyed something like this when I was a kid. As a parent, I love that you have the ability to use the parental controls on the website to decide what you want your child to play.
Buy It
The Miniatures Series 1 Collection are available for $1.99 and the Bella Sara Treasures Card Packs are $2.99. You can purchase them at retail stores such as Barnes & Noble, Amazon, Kmart, Target, Toys R Us, and Walmart.