As most of you know, I had an ultrasound today. I posted yesterday telling you how excited I was to get another look at the baby. In an earlier ultrasound at around 12 weeks, the guess from the ultrasound tech was boy.
It took a little while today because the baby kept crossing its legs, BUT it's a...GIRL!!!
A HEALTHY LOOKING GIRL!!
YAY!!! I am so THRILLED! Really though, I knew it ALL ALONG! Remember my post from December? If not, you can read that
HERE
!
I haven't bought anything for him and we have had the WORST time coming up with a boy name! We had the girl name from the start.
Anyway, here are the pictures. The first one is her bottom, and the last two are the 4D shots that we got today. I think she looks a lot like her brother!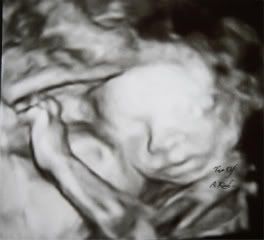 OK, so now I need girl stuff! I have a house full of blue baby clothes and products!
Bring on the frills and lace! I want the pink shoes and those BIG hair bows! I want the cute dresses and the tights.........can you tell I'm SOOOOO excited? Hubby says I've been glowing since we found out.