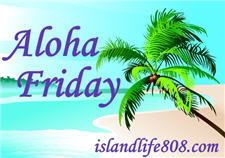 It's Aloha Friday again over at
An Island Life
! Answer my question and make sure you post one on your blog! After that, go relax because today is Friday!!
My question for this week is:
What are you doing this weekend?
I am going shopping for baby GIRL stuff! We have NOTHING pink and frilly in my house and I can't wait to shop any longer! We may even make a little drive and go to some outlet stores! Let me know if you know of any great sales going on this weekend!