Have you been trying to think of a fun way to get your child prepared for reading before Kindergarten? I am always trying to put learning into most of the things that Evan does or watches.
Did you know that only 1 in 8 of children's educational shows meet high quality standards?
A new study funded by DOE proves that WordWorld does help children develop pre-literacy skills.
Thanks to
Family Review Network
and
WordWorld
we were able to review the Rocket to the Moon DVD.
I only just found out about WordWorld about three or four months ago. We've been watching it most days since then. Evan loves the song at the beginning and the characters are just adorable!
We watched this DVD with the 3 year old that I keep. Both Kids just sat and watch it. The little girl Sang along and interacted more with the characters. The DVD actually had 4 episodes included on it.
I love how each Character is actually made of the letters that spell out what they are. I can see how the study proved that WordWorld helps children develop pre-literacy skills! If you continue to see the words with the character over and over, you're going to be able to recognize the word eventually.
With so many shows to choose from, why not let your child watch a show that is proven to help them read!
On February 13th, WordWorld with be airing its Valentine's Day Special!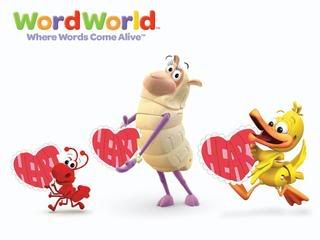 Be sure to go ahead and set your DVR so you don't miss it!
If you've never seen WordWorld, this would be a great one to start with! You can even turn on your TV today and watch an episode!