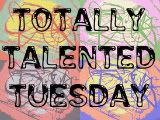 I hope everyone can join in and link up with Mr. Linky at the bottom of this post to show off the talent in your house! Just post about the talent going on around you on your blog!
Talent can be anything from anyone you know! Did your baby learn how to sit up this week? Did you write an amazing blog post? Post about it! To read more, click
HERE
!
This week is a few talents rolled into one post! We went to a Birthday party for a very special 3 year old and I was a little worried that Evan wouldn't play very well and just want to stay beside me the whole time. Because he stays at home with me, he's not around a whole lot of other kids and usually just sticks to my side when we're out!
He actually did VERY well and played with the other kids and didn't even notice when I had to leave the room! It was at a gym for kids and he had a BLAST! They have tons of equipment that the kids got to play with and Evan played with it all! He was so proud of himself. I'm thinking about putting him in classes at this place.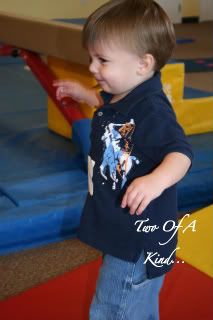 Now post about the talent in your life and leave a link in Mr. Linky!