I'm always on the lookout for new, cute shoes for my little man. I don't just want the shoes to be cute, I want them to feel good on his feet too.
See Kai Run
actually has both!
Their shoes are extremely comfortable with flexible soles which is great for outdoors. They allow the foot to flex in all the right places. The leather is butter soft with a breathable leather lining and padded collars. They close with Velcro which makes it easy to take on and off.
See Kai Run has a
smaller line
for babies up to 18 months and a
regular line
for sizes 3-9.
You'll want to check their website for the new Spring line! As always, the girls shoes always pull at my heartstrings because they are just absolutely adorable! The boys shoes are fantastic as well, but a little more "manly"!
I want you to go check out the new spring line yourself, but here is one of my favorite styles that they've had for a while for girls. If Evan was a girl, he would have had these a long time ago!!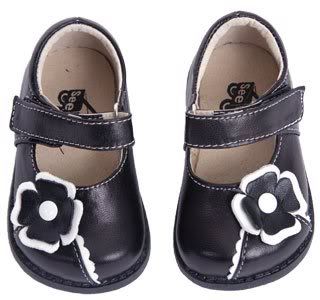 This is the Oliver. I think I'm going to get these for Evan for next winter! They'll go great with jeans and so many of his little polo shirts!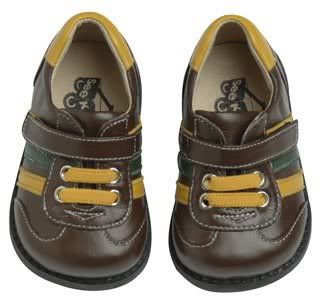 Our Thoughts On See Kai Run
I'm not a big fan of boys and Sandals. I'm not sure why, I'm just not. I did break down and choose a pair for this summer though. It gets HOT here, and these will help him stay cool. At first, I wanted the Jackson sandals, but they were sold out in his size so I chose the Grayson.
Evan LOVES shoes. I've even posted pictures of him stomping around in his Daddy's boots. He wears my shoes around the house too. With his love for shoes, it didn't take much for See Kai Run to win him over. He's actually wearing them around the house right now with socks(yes, he looks funny)!
These shoes are so light that I don't think he even realizes they're there. I was a little worried that they would be heavy because it looks like a lot of leather. I am still amazed at how light they are. I know it says that the leather is butter soft, but I just didn't see how they could be this light and flexible. I can bend the shoe in half if I want to.
I am a little concerned that they may not fit him this summer. Hopefully his feet won't grow much. Evan wears a 5 right now, and still has a good bit of room in them. I ordered a 6 in the Grayson shoes and held them up to a few pairs of his size 5 shoes. The Grayson is only a TINY bit longer. Since he won't be wearing socks with them, hopefully they'll last a little longer than I'm guessing.
It's my fault, I didn't look at the size chart. I just assumed since he wore a 5 in all of his other shoes, the size 6 in Grayson would be plenty big for him this summer.
The shoes are fantastic though and exceed my expectations. If you're looking for cute, soft, and comfortable shoes for your little one, go with See Kai Run.
Buy It
See Kai Run
has a large selection in the Smaller Line and Regular Line. The Grayson shoes are $38.00.
WIN IT!!
See Kai Run is giving a pair of shoes to one of my readers. The winner can choose any style from the smaller or regular line.
To enter, visit
See Kai Run
and tell me which pair of shoes you would choose from the See Kai Run collection or Smaller See Kai Run Collection.
This is required and must be done before the extra entries count!EXTRA ENTRIES!
You can do any of these things for an extra entry. Make sure to leave a separate comment for EACH thing you do.
1- Subscribe to my blog via email. Type in your email address over to the left and hit submit! Don't forget to activate your account.
2- Subscribe to the Email List On
See Kai Run
!(The box is at the bottom middle. Type in your email and hit submit.)
3- Put my new button on your blog! If you have my old Two Of A Kind Button on your blog, take it down and replace it with the NEW one! THANKS!!
4- Follow my blog. Go over to my right sidebar and click on Follow This Blog! Current followers count too! Leave me a comment letting me know that you do!
5- For TWO extra entries, Blog about this giveaway and link it back to my blog AND
See Kai Run
!
6- Follow me on twitter AND tweet about this giveaway. Please leave me the link in your comment where you "tweeted" about the giveaway. Just following me does NOT count! You MUST "tweet" about this giveaway as well!
You can tweet once per day for an extra entry EVERY DAY! Just tweet about my giveaway and come back here and leave me the link.
7- For FIVE extra entries, purchase anything from
See Kai Run
before the end of this giveaway!
Contest ends at 11:59pm EST on March 16th when I will draw a winner at random. PLEASE leave your email address if it is not visible on your profile. I will notify the winner on March 17th and they will have 36 hours to respond before I will choose a new winner!
Contest is open to US AND Canada residents