Kristen is like many other moms who adore having personalized items for themselves and their children. After her son Jack was born, she began to search high and low for personalized items to give her family and friends as well. She ended up creating
Savannah Jack's
so there would be a website with a huge variety of personalized items to make everyone in your life feel unique.
Savannah Jack's carries many items including:
-Hand Bags
-Ties
-St. Patrick's Day items
-Monogrammed Children's Line
-Monogrammed Home Decor
-Monogrammed Accessories
-Monogrammed Flip Flops
-Monogrammed Baby
-Monogrammed Hats
-Monogrammed Jewelry
-Overstuffed Baby Totes
-Monogrammed Decals
-Monogrammed Umbrellas
-Monogrammed coolers
-And MUCH more
I know you've heard me say it many times, but I wish I had a little girl so I could dress her in things like this!
I know MANY women that would LOVE to have these flip flops!
You will want to go visit
Savannah Jack's
to get personalized gifts for everyone in your life! I am always looking for cute things like this. She has a website FULL of them! Kristen is an amazing woman and she will take good care of you! You WILL find MANY items that you just have to have!
I have been in search of something cute for Evan to wear when his baby brother is born in a few months. I want him to feel special and big, but also look cute!
Kristen from Savannah Jack's sent me a pair of Big Brother Scrubs for him to wear! I am in love with them. I think that people will be complimenting him left and right on his Big Brother Scrubs. Hopefully he will feel so special that he won't even notice the extra attention that his little brother will be getting!
He wasn't exactly into having his picture taken without his pen and paper. I think it makes him look like a little doctor!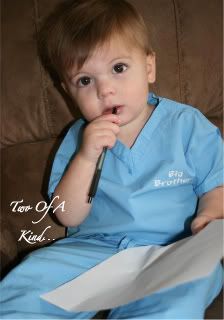 Doesn't he look absolutely adorable in this outfit? You will see MANY picture of Evan wearing these little scrubs when the baby comes. I will remind you that they came from Savannah Jack's.
I love that you can have these scrubs personalized with anything that you want! They come in Pink, Blue, and green. You could even personalize it with their name. Wouldn't it be cute if I got the baby a pair with Little Brother on them? After I find out for sure that it is a boy, I am going to have to do that!
There is a size chart going up on the website. I would advise you to measure your baby or toddler's clothes that fit now and pick the size from the measurements on the chart. I think they run just a little small, but if you use the measurements on the chart to choose your size, you will be fine!
Buy It
You can purchase the
My First Scrubs
for $28. The
Monogrammed Striped Bags
are $40.
WIN IT!!
Kristen from Savannah Jack's is giving one of my readers a Monogrammed Striped Bag. The winner will get to choose which of the three that they want.
To enter, visit
Savannah Jack's
and tell me what you favorite item is. ALSO, tell me
which striped bag
you would want if you win(Aqua, Pink, Or Lime).
This is required and must be done before the extra entries count!EXTRA ENTRIES!
You can do any of these things for an extra entry. Make sure to leave a separate comment for EACH thing you do.
1- Put my new button on your blog! If you have my old Two Of A Kind Button on your blog, take it down and replace it with the NEW one! THANKS!!
2- Follow my blog. Go over to my right sidebar and click on Follow This Blog! Current followers count too! Leave me a comment letting me know that you do!
3- For FOUR extra entries, Blog about this giveaway and link it back to my blog AND
Savannah Jack's
!
4- Follow me on twitter AND tweet about this giveaway. Please leave me the link in your comment where you "tweeted" about the giveaway. Just following me does NOT count! You MUST "tweet" about this giveaway as well!
5- For FIVE extra entries, purchase ANYTHING from
Savannah Jack's
before the end of this giveaway. Remember to leave me a comment letting me know you did!
6- Add my blog to your technorati favorites! (click on the button in my sidebar) Leave a comment letting me know you did!!
7- Subscribe via email to my blog. Type in your email address over to the left and hit submit! Don't forget to activate your account
Contest ends at 11:59pm EST on February 22nd when I will draw a winner at random. PLEASE leave your email address if it is not visible on your profile. I will notify the winner on February 23rd and they will have 36 hours to respond before I will choose a new winner!
US ONLY!!
Don't forget to enter all my other giveaways listed on my sidebar!