I admit that I'm not fond of strong scents. I don't use many candles or anything in my house. I do have one candle that I will use that has a very light, pleasant smell. Some things that I cook seem to linger and I need help getting those smells out!
Thanks to
Family Review Network
and
Glade
, I was able to test out the new Sense and Spray!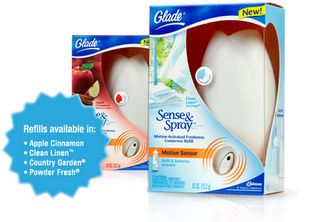 I received the Fresh Linen smell. I set it up in my kitchen and turned it so that it wouldn't going off too often. It will only go off every 30 minutes maximum, even if someone continues to walk in front of it! If no one is around, it won't continue to spray and waste the refill! If you need an extra burst of fragrance, just push the button!
I walked in front of it and a light spray came out. I was pretty entertained with the fact that it can sense when someone walks in front of it and knows when to spray! At first, the scent was a little strong, but within just a few minutes it was light and airy. My kitchen smelled fantastic and I wasn't bombarded with a strong smell.
My mom has the same problem with strong scents. They just give us both headaches. This time, I put it in the bathroom and waited for her to comment on it. About an hour later she commented on the pleasant clean linen smell. I showed her the Glade Sense and Smell and she was as impressed as I was! We've both tried different scents and devices to help with odors resulting from cooking bacon or anything fried and nothing has seemed to help before this. Some of the scents would smell too fake or just too strong!
I love the fact that it doesn't have to plug into the wall and you can place it anywhere you want. I have moved it around from my kitchen, all three bathrooms, and my son's room when he's had a stinky diaper. It works off of batteries that are included!
Buy It
The glade Starter kit which includes a holder, refill, and batteries is only $8.99(Glade has a coupon to buy one, get one free on their website)! It is available in four fragrances: Clean Linen, Apple Cinnamon, Powder Fresh, and Country Garden.
WIN IT!!
Glade
is offering A Sense And Spray to one of my readers!
To enter, visit
Glade
and tell me another product that you'd like to try!
This is required and must be done before the extra entries count!EXTRA ENTRIES!
You can do any of these things for an extra entry. Make sure to leave a separate comment for EACH thing you do.
1- For TWO extra entries, Subscribe via email to my blog. Type in your email address over to the left and hit submit! Don't forget to activate your account.
2- Put my new button on your blog! If you have my old Two Of A Kind Button on your blog, take it down and replace it with the NEW one! THANKS!!
3- Follow my blog. Go over to my right sidebar and click on Follow This Blog! Current followers count too! Leave me a comment letting me know that you do!
4- Blog about this giveaway and link it back to my blog AND
Glade
!
5- Follow me on twitter AND tweet about this giveaway. Please leave me the link in your comment where you "tweeted" about the giveaway. Just following me does NOT count! You MUST "tweet" about this giveaway as well!
6- Add my blog to your technorati favorites! (click on the button in my sidebar) Leave a comment letting me know you did!!
Contest ends at 11:59pm EST on February 26th when I will draw a winner at random. PLEASE leave your email address if it is not visible on your profile. I will notify the winner on February 27th and they will have 36 hours to respond before I will choose a new winner!
US ONLY!!
This post was written for Family Review Network as part of a program by SC Johnson, who also supplied the product for review and giveaway.Don't forget to enter all my other giveaways listed on my sidebar!