As you all know, I'm in search of products that will make my life easier not only as a mom to a toddler, but as a mom of a toddler AND a newborn.
The
ERGObaby Carrier
is just what I need! This is the only baby carrier that I've found to hold either my infant or my toddler toddler in the front, back, or hip positions! This carrier is meant to hold babies up to 40 pounds but has been tested and can hold up to 90 pounds! You can use this carrier as long as you feel comfortable doing so!
Most baby carriers are either for infants OR toddlers, not for both. Parents prefer to wear their babies in different positions. I don't mind using a carrier on my hip, but I know many moms or dads that would rather use carriers in the front or back position. With the ERGObaby Carrier, you can wear your baby in the position that the most comfortable and convenient for you!
Some features of the ERGObaby Carrier: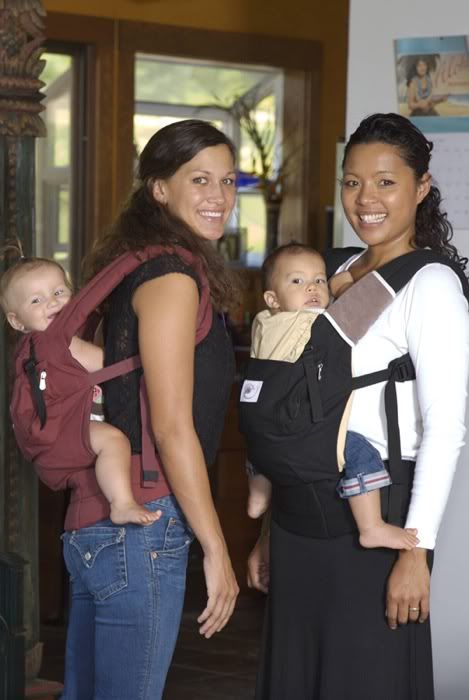 -14 ounce cotton canvas
-Design supports correct sitting position for baby's hip, pelvis, and spine growth
-100% cotton batting in body of carrier for softer edges
-400 threads per inch cotton poplin lining and hood
-One inch, high-density foam in shoulder straps
-Reinforced stitching used at all fabric intersections
-Attached hood to support sleeping baby, provide sun protection, or provide privacy for nursing.
-For newborns(with infant insert) to toddlers
-Easily worn on front, back, or hip
-And MORE
Some features of the ERGObaby front pouch: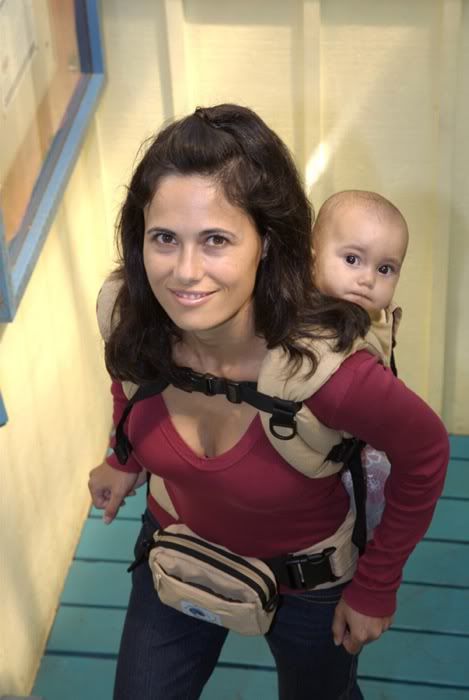 -100% cotton canvas with nylon lining
-Velcro attaches the front pouch around the waist belt of the ERGObaby Carrier
-Zipper pocket in main pouch
-Two exterior pockets
-Adjustable shoulder straps
-And MORE
Some Features of the ERGObaby backpack: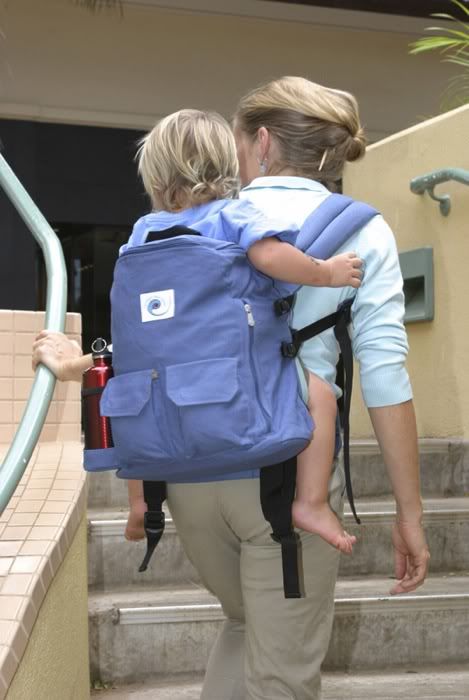 -Can snap around straps of baby carrier
-100% cotton canvas
-Attached bottle holder
-Side zipper pocket
-Shoulder straps for independent use
-Two front pockets
-And More
With the ERGObaby Carrier and it's accessories, I can carry either my infant or toddler. We don't have a double stroller yet, but I'm sure both kids are not going to want to be in there at all times. Also, a double stroller takes up so much space. It would be easier to just carry one child and use the umbrella stroller for the other.
The ERGObaby Carrier is also perfect for places like the zoo. We go to the zoo all the time but end up having to get my son out of the wagon anyway because it sits down below the railing. With the ERGObaby Carrier, my husband can put him on his back and he will be contained and happy to be up so high and see the animals.
If you buy this carrier at birth, you will never have to use anything else! With the HandsFree System(Carrier, Backpack, and Front Pouch), you wont even have to use a stroller! I wish I would have had this carrier all along with my son!
Buy It
You can purchase a variety of colors and styles of
ERGObaby carriers
starting at $94.00.
The
Backpack
is $37.00.
The
Front Pouch
is $21.00.
WIN IT!!
I have an ERGObaby Handsfree System to give to one of my readers. The winner will get a ERGObaby Carrier, instructional DVD, Backpack, AND Front Pouch!!
To enter, visit
ERGObaby
and tell me something interesting(they have a parenting section and other accessories and features that I did not talk about)
This is required and must be done before the extra entries count!EXTRA ENTRIES!
You can do any of these things for an extra entry. Make sure to leave a separate comment for EACH thing you do.
1-For TWO extra entries, Subscribe to my blog via email. Type in your email address over to the left and hit submit! Don't forget to activate your account.
2- Put my new button on your blog! If you have my old Two Of A Kind Button on your blog, take it down and replace it with the NEW one! THANKS!!
3- Follow my blog. Go over to my right sidebar and click on Follow This Blog! Current followers count too! Leave me a comment letting me know that you do!
4- For TWO extra entries, Blog about this giveaway and link it back to my blog AND
ERGObaby
!
5- Follow me on twitter AND tweet about this giveaway. Please leave me the link in your comment where you "tweeted" about the giveaway. Just following me does NOT count! You MUST "tweet" about this giveaway as well!
You can tweet once per day for an extra entry EVERY DAY! Just tweet about my giveaway and come back here and leave me the link.
6- For FIVE extra entries, purchase anything from
ERGObaby
before the end of this giveaway!
Want another chance to win? You can visit
"Deal"ectible Mommies
and enter to win an ERGObaby Hands Free System on her blog!
Contest ends at 11:59pm EST on March 16th when I will draw a winner at random. PLEASE leave your email address if it is not visible on your profile. I will notify the winner on March 17th and they will have 36 hours to respond before I will choose a new winner!
US ONLY