Let's face it, Dads aren't usually included when it comes to baby showers and gifts! It's usually women only, and then the new Daddy's just come and load up all of the baby stuff after it's over.
Well,
Fun Stuff 4 Babies
came up with a hilarious way to include dad! I don't know many Dads that don't make a little scene when they first learn how to change a diaper. Now there is the Daddy Diaper Changing Toolbox to help them get the job done!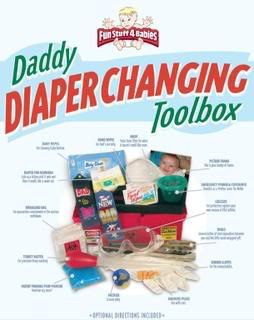 This Toolbox includes:
-Mask- toxic fume filter for when it doesn't smell like roses.
-Goggles- for protection against your own mini version of Old Faithful.
-Patent Pending Poop Poncho-need we say more???
-Tongs- Several inches of steel separation between you and the little warm wrapped gift.
-Turkey Baster- for precision hiney washing.
-Ear/Nose Plugs- use with care.
-Pacifier- scream plug.
-Baby Wipes- for cleaning baby bottom and various parts.
-Diaper for newborn- cute as a kitten until it gets wet then it looks and smells like a sewer rat.
-Bio Hazard bag and rubber gloves- for quarantine containment of the nuclear meltdown.
-Emergency Formula Container- doubles as a PeePee cover for WeWe.
-Hand Wipes- to clean up afterward. (For Dad's use only).
-Picture Frame- this is your badge of honor.
My best friend is having her first baby next month and this will be perfect for BOTH of them. Neither of them have had much experience when it comes to changing diapers and they are pretty weary of the idea! The Daddy Diaper Changing Toolbox will make a fun way for them to learn!
I think this is a FANTASTIC idea and should be on
Ellen
! Be sure to
email her
and let her know you think so too(it will get you THREE extra entries)! Don't forget to include a link in the email you sent her so she knows what you're talking about!
Buy It
The Daddy Diaper Changing Toolbox is $34.99 and comes with 14 fun gifts for the new dad and free priority shipping!
If you use the code twokind29, you will get 10% off!!WIN IT!!
Fun Stuff 4 Babies is offering A Daddy Diaper Changing Toolbox to one of my readers!
To enter, visit
Fun Stuff 4 Babies
and tell me which item in the Toolbox is your favorite!
This is required and must be done before the extra entries count!EXTRA ENTRIES!
You can do any of these things for an extra entry. Make sure to leave a separate comment for EACH thing you do.
1- For TWO extra entries, Subscribe via email to my blog. Type in your email address over to the left and hit submit! Don't forget to activate your account.
2- For THREE extra entries, Write
Ellen
and tell her that you think the Daddy Diaper Changing Toolbox should be on her show! Don't forget to send her the link!
3- Put my new button on your blog! If you have my old Two Of A Kind Button on your blog, take it down and replace it with the NEW one! THANKS!!
4- Follow my blog. Go over to my right sidebar and click on Follow This Blog! Current followers count too! Leave me a comment letting me know that you do!
5- For TWO extra entries, Blog about this giveaway and link it back to my blog AND
Fun Stuff 4 Babies
!
6- Follow me on twitter AND tweet about this giveaway. Please leave me the link in your comment where you "tweeted" about the giveaway. Just following me does NOT count! You MUST "tweet" about this giveaway as well!
7- Add my blog to your technorati favorites! (click on the button in my sidebar) Leave a comment letting me know you did!!
8- For FIVE extra entries, purchase a Daddy Diaper Changing Toolbox from
Fun Stuff 4 Babies
before the end of this giveaway!
If you use the code twokind29, you will get 10% off!!
Contest ends at 11:59pm EST on February 26th when I will draw a winner at random. PLEASE leave your email address if it is not visible on your profile. I will notify the winner on February 27th and they will have 36 hours to respond before I will choose a new winner!
US ONLY!!
Don't forget to enter all my other giveaways listed on my sidebar!