I think all children love to express themselves with art. They like to show off the things that they've colored or made.
ColorMe Company
is a way for them to color something and have it forever.
Paul Marciano came up with the idea for ColorMe Company when he gave his goddaughter a card for Christmas and she ended up drawing on it to give it a personalized touch.
Since then, the company carries products adorned with drawings that other children have submitted. These drawings were made into Pillowcases, Shirts, cards, and stockings for other children to personalize and carry with them always!
10% of their proceeds are donated to children's charities that you can choose when you check out!
We got one of the pillowcases for Evan to make his memories on. I was so excited that we would have a fun way to remember how he colored at this age. He can turn is art into a pillowcase that he will have with him as long as he'd like!
Here he is when we first sat down to start working on his masterpiece!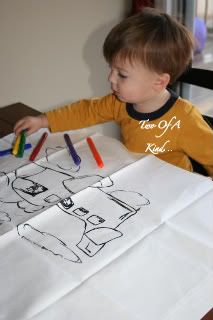 He loves to draw and was so excited to be coloring on this pillowcase. At Christmas I will get cards and shirts for him to make for his grandparents. These will make great personalized gifts for them!
After finishing it, we needed to let it dry overnight. To keep the coloring permanent, you must heat set it. To do that, you can simply turn it over and run an iron over it. After that, you can wash it and the color will stay!
ColorMe Company also sells a slumber party kit which consists of FOUR pillowcases, EIGHT postcards, a set of fabric markers, and directions for setting color. I think this would be a fantastic ideas for birthday parties where the kids spend the night! They'll each get to have fun making something that will remind them of the party every time they look at it!
Here are a few examples of the cards that you can get so your child can personalize them for friends or relatives.
Some of the shirts come in sizes up to an adult XL!

BUY IT!
The pillowcases are $24.99.
The shirts are $21.95.
The cards come in different size packs that vary in price.
You can get 20% off by using the code colormelovesmoms