I LOVE to host giveaways on my blog, but I also love to enter them on other blogs! I've won quite a few really cute things, and even did a post about them in December. I need to do a big post with all of my thank yous, but this win deserves it's own post!!!
I entered to win a
Graco
infant car seat on
Kristin's
(An Ordinary Life)blog! I really needed a new one because I never liked the one I had with Evan and it had been used A LOT. The base that you're supposed to leave in the car was HORRIBLE, and I never used that part. This Graco one has a fantastic base!
Kristin
ended up choosing me as the winner!!
Fantastic, right? Well it gets better! A few weeks ago, a
Graco
box appeared on my doorstep. I thought the box looked a little big for a car set, and sure enough, it was! It was the WHOLE travel system!
I immediately emailed Kristin and told her that it was the whole travel system and she emailed
Graco
. They said they wanted to surprise me!!
I have been wanting to do this post for a couple weeks now, but was waiting until we got it out of the box so I could show pictures of it put together!
Here is the car seat...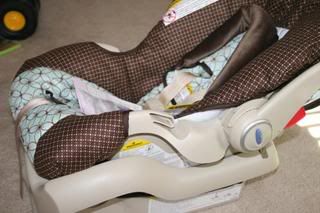 ...AND my stroller!!!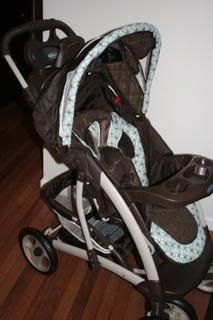 I can't wait to use these with the new baby! There will be MANY pictures of the baby using this travel system!
If you've never been to
Kristin's blog
, GO! She is also pregnant, but with a girl! Since our baby looks like a boy, Kristin and I are going to switch so now we'll each have one boy and one girl! Her blog is fun and she's so amazing! Go give her some comment love!