I was so excited to give Evan a bath for the first time. I set his bathtub up and couldn't wait to take pictures of him in his first bath. It was horrible. He screamed and I only got pictures of a red-faced, MAD baby!
Babies are so used to being warm when they are that small that bath time is just too cold for them. We would even put the space heater in his bathroom to get it as warm as we could. He was even born in August so our house was NOT cold!
Amy Seckinger had this same problem when her son was born 10 years ago. She wanted to find some way to make bath time more pleasant and to keep him warm! Amy created the
Bath Luve
.
The Bath Luve will keep your baby warm during bath time! Just soak it in warm water and drape it over your baby's torso. They are made from 100% cotton and are 14"x10". The
Bath Luve
now comes in three absolutely adorable designs, the duck, frog, and fish.
We got the Bath Luve Frog! Even though Evan is not a tiny baby anymore, he still gets cold in the bath. As babies get older you can drape the Bath Luve over their shoulders to keep them warm.
We put the frog on his shoulders and he loved it! I think that he felt like a super hero! He didn't even want to take it off when the bath was done. He takes longer baths than he used to so the Bath Luve did start to cool off after a while. We just soaked it again and put it back on his shoulders.
I don't like posting pictures of him in the bath since he is getting older...but here he is telling me "HAT"!
I will also use this with the new baby when we're traveling and not using our Spa Tub. I am going to buy one to keep at my mom's house as well. There will be many baths at grandma's house and this will keep him warm in the sink!
Not only will it keep him warm, it will also make cute pictures! Having a frog on him during his first bath pictures will be adorable and something I can share with everyone because it will fully cover him up!
Buy It
You can purchase any of the three
Bath Luves
for $6.99.
WIN IT!!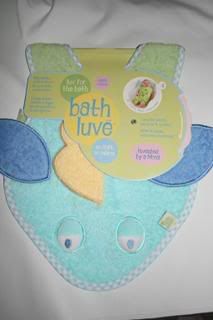 One of my readers is going to get a fish Bath Luve!
To enter, visit the
Bath Luve Online Store
and tell me which product and design is your favorite!
This is required and must be done before the extra entries count!EXTRA ENTRIES!
You can do any of these things for an extra entry. Make sure to leave a separate comment for EACH thing you do.
1- For TWO extra entries, Subscribe via email to my blog. Type in your email address over to the left and hit submit! Don't forget to activate your account.
2- Put my new button on your blog! If you have my old Two Of A Kind Button on your blog, take it down and replace it with the NEW one! THANKS!!
3- Follow my blog. Go over to my right sidebar and click on Follow This Blog! Current followers count too! Leave me a comment letting me know that you do!
4- For THREE extra entries, Blog about this giveaway and link it back to my blog AND
Bath Luve
!
6- Follow me on twitter AND tweet about this giveaway. Please leave me the link in your comment where you "tweeted" about the giveaway. Just following me does NOT count! You MUST "tweet" about this giveaway as well!
7- Add my blog to your technorati favorites! (click on the button in my sidebar) Leave a comment letting me know you did!!
8- For FIVE extra entries, purchase a
Bath Luve
before the end of this giveaway!
Contest ends at 11:59pm EST on March 9th when I will draw a winner at random. PLEASE leave your email address if it is not visible on your profile. I will notify the winner on March 10th and they will have 36 hours to respond before I will choose a new winner!
US ONLY!!
Don't forget to enter all my other giveaways listed on my sidebar!