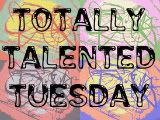 I hope everyone can join in and link up with Mr. Linky at the bottom of this post to show off the talent in your house! Just post about the talent going on around you on your blog!
Talent can be anything from anyone you know! Do you have a new Basketball player at your house? Did you create a new scrapbook page? Post about it! To read more, click
HERE
!
Evan's latest talent is probably the most fun to me! He imitates EVERYTHING we do! I mentioned in my NotMe Monday that I love dancing around the house because he does everything I do, even if I add a little jump in there! While watching the Backyardigans the other day, he was swirling and jumping just like they do!
This is him imitating Hubby reading the paper. In the first picture, he is looking really hard at his daddy to see what to do. In the second he is doing exactly what hubby is doing!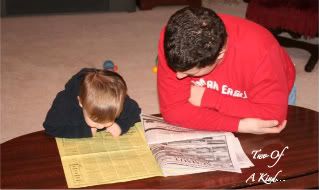 I'm going to have to start taking more pictures when he is doing what we're doing!
Now, post about the talent in your life and leave a link in Mr. Linky!