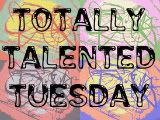 I hope everyone can join in and link up with Mr. Linky at the bottom of this post to show off the talent in your house! Just post about the talent going on around you on your blog!
Talent can be anything from anyone you know! Do you have a new Basketball player at your house? Did you create a new scrapbook page? Post about it! To read more, click
HERE
!
My little man LOVES his Magna Doodles! We have 5 of these. One is in the car and stays there. These are scattered throughout the house and the smaller ones usually stay in our diaper bags! These are displaying his latest works of art! He draws on these at least 25 times a day. I am amazed that he still plays with them as much as he did when we got the first one for him months ago!
We got the smaller ones for the car and diaper bags because we figured they would provide fun at some point. He was so in love with them that we got him the larger one and medium size one for Christmas. The large one has magnets and he carries those all around!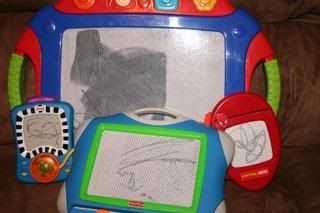 Now, post about the talent in your life and leave a link in Mr. Linky!