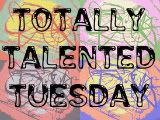 I hope everyone can join in and link up with Mr. Linky at the bottom of this post to show off the talent in their house!
Talent can be anything from anyone you know! To read more, click
HERE
!
I was going to show Evan's new Talent but he's been pretty sick for the past week and just not in a good mood!! I didn't even attempt to get pictures of it! Hopefully he'll be all better and I can show pictures next week!
I started my 3rd month of pregnancy this week so I thought I'd share what the baby will be doing this month!
The baby is now a fetus and will be 2 1/2 to 3 inches from crown to rump and weigh 1 1/2 ounces by the end of this month. It's eyes are going to move closer together, and the ears are positioning themselves on the side of the head. Fingers and toes will have soft nails covering them! Taste buds has developed as well as the sucking reflex! The buds that will one day be teeth have formed. By the end of the month, the sex of the baby can be detected and the heartbeat will be heard with a doppler!
I'm so excited because I go in on January 21st for another ultrasound and I will be about 12 weeks. My ultrasound tech and I are going to take a guess at what the baby is! Of course, it is just a guess, but the external genitalia should be pretty formed by then!
I can't wait to see all the talent going on at your house!!