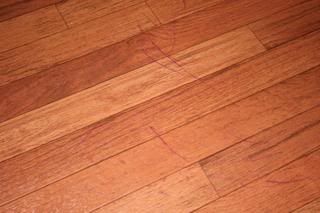 I'm not sure if you can see in this picture, but that is lip liner on my floor! My 17 month old decided it would be fun to draw mommy a pretty picture on the floor! I caught it before he did too much and was able to clean it up, but kept thinking what if he did this on the carpet!
So I guess I'm in for it now! This is the first time he's drawn on anything other than paper or himself! And all I can think is THANK GOODNESS it wasn't my carpet! AHH..the joys of having kids!
For more A Thousand Words Thursday, check out
Cheaper Than Therapy
!