I had my 3rd ultrasound yesterday! The main point was to find out if my cyst had gone down in size and I'm happy to report that it DID go down!
MY main goal was to try and find out the sex of the baby! I made friends with the ultrasound tech last time I was in there and she told me we would give it a shot!
I am ONLY right at 12 weeks but the baby's parts have already started forming and a friend of mine found out what she was having this early!
Things could change but we're PRETTY positive this kid is ANOTHER BOY! I think this ultrasound pic makes it PRETTY certain that this baby has BOY parts! She even checked from ALL angles for me...just to make sure!
At least we're consistent...BOYS due in AUGUST! :) The good thing is we won't have to really buy any boy clothes! I could use a cute outfit to bring him in though!
Here is the heartbeat(this is the baby's back).
AND...my new ultrasound tech friend decided to play around with the 4D ultrasound! Of COURSE, baby boy kept putting his hands in his face so we couldn't get a good look!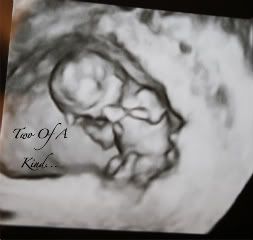 I am also happy to report that I lost two pounds! I was totally ready to use the excuse that my shoes weighed at least 5 pounds each if I had gained a whole lot! I was THRILLED with my 2 pound weight loss considering I'm still carting around an extra 5 pounds from having my first baby! :)
For more A Thousand Words Thursday, check out
Cheaper Than Therapy
!