Lets face it, babies can be difficult to travel with! They need so many items on every trip! Do you know any websites that will take care of all your travel needs as far as your baby is concerned?
I found the PERFECT website that will take care of all your baby travel needs!
Tots on-the-Go
has everything from strollers to apparel to make traveling less stressful with your baby! All of their items are absolutely adorable and the selection is fantastic!
They carry the top name brands and help you in every way to make your selections! There is even a showroom in Richmond, VA where you can go and try out their products. They have years of experience to help you decide what you need! They have spent hours testing the best products that are out there.
To make your life easier, they have free shipping on orders over $99 in the Continental US and a 45-day return policy! If that wasn't enough, they also have a price match guarantee!
Again, they have so many items on their website that I couldn't possibly name them all! Here are just a few examples of their items. TO see everything, please visit
Tots on-the-Go
!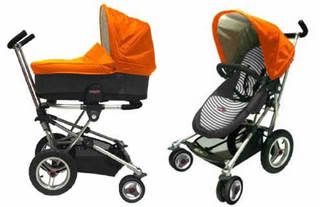 Look at this adorable stroller pad!!
Tots on-the-Go also carries the MyMonkeyMoo stroller pads and blankets! The stroller pad has two sides, a soft and cozy side and then a cool and fashionable side.
A few features include:
-Adapts to all strollers
-Reversible for Moms who want variety
-Machine washable
-Doubles as a changing pad
-13" wide x 32" long
-Comes in a variety of adorable patterns
The blankets to match are just as amazing as the stroller pads!
The stroller blanket features include:
-Designed for use in strollers
-Reversible
-Machine Washable
-Soft and cozy on one side, cute pattern on the other
-26" wide x 32" long
Buy It
You can purchase the
My Monkey Moo stroller pad
for $69 and the My Monkey Moo Stroller Blanket for $64!
WIN IT!!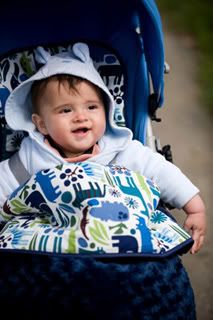 Tots on-the-Go is giving a MyMonkeyMoo stroller pad AND stroller blanket to one of my lucky readers!!!
To enter, visit Tots on-the-Go and tell me
which pattern
you would choose for your stroller pad and stroller blanket! ALSO, tell me another item that
Tots on-the-Go
carries that you like!
This is required and must be done before the extra entries count! If your are chosen via Random.org and have not done these things, your entry will not count and I will find a new winner!EXTRA ENTRIES!
You can do any of these things for an extra entry. Make sure to leave a separate comment for EACH thing you do.
1-For TWO extra entries, put my new button on your blog! If you have my old Two Of A Kind Button on your blog, take it down and replace it with the NEW one! THANKS!! Remember to leave TWO comments if you do this!
2- Follow my blog. Go over to my right sidebar and click on Follow This Blog! Current followers count too! Leave me a comment letting me know that you do!
3- Grab My "Bring In The New Year With Style" Button and put it on your blog!
4- You can now subscribe Via email...type your email into the box under my button and hit subscribe! Leave me a comment letting me know you did!
5- For TWO extra entries, Blog about this giveaway and link it back to my blog AND
Tots on-the-Go
!
6- Follow me on twitter AND tweet about this giveaway. Please leave me the link in your comment where you "tweeted" about the giveaway. Just following me does
7- Go visit the
Tots On-the-Go Blog
and leave a comment letting them know how great their website is and that you entered the giveaway!!
8- For FIVE extra entries, purchase anything from
Tots on-the-Go
before the end of this giveaway.
9- Add my blog to your technorati favorites! (click on the button in my sidebar) Leave a comment letting me know you did!!
Contest ends at 11:59pm EST on February 5th when I will draw a winner at random. PLEASE leave your email address if it is not visible on your profile. I will notify the winner on February 6th and they will have 36 hours to respond before I will choose a new winner!
Continental U.S. and Canada Only.
Don't forget to enter all my other giveaways listed on my sidebar!