How many of you have been excited to put your new baby in the bathtub for the first time only to be disappointed by the shivering and screaming? I know I was! As soon as his cord came off, I couldn't wait to get pictures of him taking his first bath. It ended up being a very unhappy experience with him shivering and screaming! We cut the bath really short and I only got 2 pictures of my mad baby.
Thanks to the
Spa Baby Bath Tub
, our new baby won't have to go through this traumatizing experience! Let's face it, tiny babies love the warmth and the regular bathtubs just don't provide that for them in an inch of water.
The Spa Baby Tub takes the European approach to bathing babies. For years, they have been bathing their babies in tubs that allow them to sit in a natural upright position with warm water up to their shoulders. This allows babies to feel as if they are in a similar environment to that of their mommy's womb!
It is easy to use for Newborns up until they can go in the big bath tub like Mommy and Daddy! Not only is this bathtub relaxing, it is also super safe! The Spa Baby Tub is free from BPA, phthalates, PVC, and lead!
My Thoughts On The Spa Baby Tub
I was able to use this tub on my neighbor's 3 month old. I did watch the
instructional video
before I took it over there because it seemed like it would be a little awkward with a baby who could barely hold his head up! You have to hold the baby with one had and bathe with the other. It actually ended up being a lot easier and natural than I had originally expected!
We chose a place that we could bathe him with ease. We tested the water and filled it up where it would come to his shoulders. This took a little trial and error but we figured out the right amount of water.
I was immediately impressed. He seemed very happy and relaxed. We were able to wash him and he loved it! I'm sure with practice we'll get better and more relaxed with using it, but it seems to be a big hit!
I didn't want to post any pictures of that baby using the Spa Baby Bath because he's not mine. There is a
gallery
of babies in their tubs on the website!
I can't wait to use it with our own new baby when he is born in a few months! I will definitely post pictures of him relaxing in his Spa Tub!
Buy It
You can purchase the
Spa Baby Tub
for $44.99 on their website.
WIN IT!!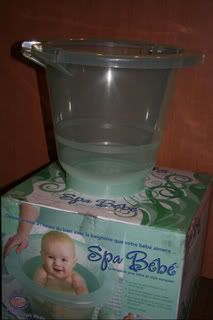 One of my readers are winning a Spa Baby Tub!!
To enter, visit the
Spa Baby Website
and Tell me something that you learned about the tub!
This is required and must be done before the extra entries count!EXTRA ENTRIES!
You can do any of these things for an extra entry. Make sure to leave a separate comment for EACH thing you do.
1- Put my new button on your blog! If you have my old Two Of A Kind Button on your blog, take it down and replace it with the NEW one! THANKS!!
2- Follow my blog. Go over to my right sidebar and click on Follow This Blog! Current followers count too! Leave me a comment letting me know that you do!
3- For TWO extra entries, You can subscribe Via email...type your email into the box under my button and hit subscribe! Leave me a comment letting me know you did!
4- For TWO extra entries, Blog about this giveaway and link it back to my blog AND
Spa Baby
!
5- Follow me on twitter AND tweet about this giveaway. Please leave me the link in your comment where you "tweeted" about the giveaway. Just following me does
6- For FIVE extra entries, purchase a
Spa Baby Tub
before the end of this giveaway.
7- Add my blog to your technorati favorites! (click on the button in my sidebar) Leave a comment letting me know you did!!
Contest ends at 11:59pm EST on February 9th when I will draw a winner at random. PLEASE leave your email address if it is not visible on your profile. I will notify the winner on February 10th and they will have 36 hours to respond before I will choose a new winner!
Continental US And Canada ONLY!
Don't forget to enter all my other giveaways listed on my sidebar!
To get back to the Bloggy Giveaway Carnival, click
HERE