To get back to the Bloggy Giveaway Carnival, click
HERE
!
Have you ever thought about how many bottles and cans you are wasting from drinking soda? Americans throw out hundreds of bottles and over 1500 cans every year!
The SodaStream soda maker
saves all those bottles and cans from being thrown out or recycled! Their BPA-free plastic bottles are reusable for up to three years! The sodamix is highly concentrated and cuts down on packaging for that as well. There is no high-fructose corn syrup or aspartame in their huge variety of flavors!
The SodaStream allows you to make homemade soda. No electricity or batteries are needed so you are also saving on energy! The power needed comes from the compressed CO2 bottle. Once they are used, you can send them back to Soda-Club to be cleaned and refilled with CO2 drawn from the air!
It only takes seconds to make delicious soda in your own home! It is simple and fun to make. There are only 4 steps!
1-Fill the reusable bottle with water.
2-Hook it into the Soda Maker and add the fizz using a button.
3-Poor your desired flavor into the bottle.
4-Drink it!
We got a black/silver fountain Jet to match the rest of appliances in our kitchen! The Fountain Jet is sleek and modern looking so we just keep in on our counter.
I admit that I was a little hesitant and thought that it would be harder to use than they said, but it was actually really easy and only took a minute for us to have it set up and a bottle of soda ready to drink! I was also worried that it wouldn't taste very good, but we all loved it!
My parents, brother, and sister were all here to try it out with us! We were all pretty excited to give it a try! LOL, the smallest things can entertain us! I think we were all curious to see how it would all turn out.
For the first time that you use it, you have to put the CO2 bottle in the back.
Its really easy to just put it in place, after that you just put the cover back on!
You put the bottle filled with water in the slot and push the CO2 Carbonator button to add carbonation to the water. It says to do this about 3 times or until desired carbonation. We did it 3 times with the first bottle and we all agreed that it needed more carbonation than that! I would do it at least 4 times the first time you make some unless you don't like your drinks to be very carbinated! Each time you press the button, you will hear a fizz to let you know it is working.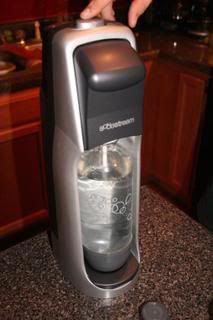 We used the Fountain Mist(compare to Mountain Dew) SodaMix for our first try. All you have to do is fill the cap to the line and then poor it into the bottle. I think it tastes very good! Like I said though, with our first bottle, we didn't add as much Carbonation as we should have.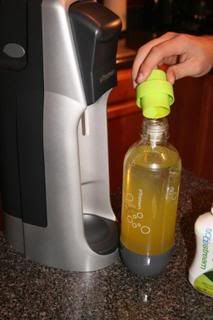 And that's all there is to it! After just a few steps, you get soda and can save the environment all at the same time! Just think of all the bottles and cans that my family is now saving! They carry many different flavors including regular and diet mixes!
Each of those Soda Mixes like in the picture make 12 liters of soda and are only $4.99! PLUS, if you buy 8, you get the 9th one free!
Buy It
There are
many kits
available for purchase. You can also buy more Soda Mixes separate. To start, you can buy the Soda Lover's kit for $95! This kit includes the Fountain Jet in your choice of color, 2 CO2 Carbonators(each will make about 60 Liters), 2 reusable BPA-free bottles, 3 economy sized flavors of you choice, and a variety of sample-sized flavors.
WIN IT!!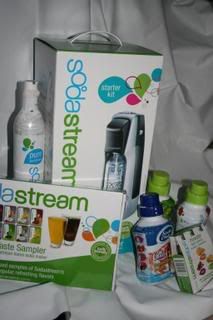 Soda-Club
is giving a Fountain Jet soda lover's start-up kit retailing for approximately $95 to one of my readers! This kit includes the Fountain Jet in your choice of color, 2 CO2 Carbonators(each will make about 60 Liters), 2 reusable BPA-free bottles, 3 economy sized flavors of you choice, and a variety of sample-sized flavors.
To enter, visit the
Soda Stream Website
and tell me the three flavors that you want to choose(click on the flavor button on the left side)!
This is required and must be done before the extra entries count!EXTRA ENTRIES!
You can do any of these things for an extra entry. Make sure to leave a separate comment for EACH thing you do.
1-For TWO extra entries, put my new button on your blog! If you have my old Two Of A Kind Button on your blog, take it down and replace it with the NEW one! THANKS!! Remember to leave TWO comments if you do this!
2- Follow my blog. Go over to my right sidebar and click on Follow This Blog! Current followers count too! Leave me a comment letting me know that you do!
3- Grab My "Bring In The New Year With Style" Button and put it on your blog!
4- You can now subscribe Via email...type your email into the box under my button and hit subscribe! Leave me a comment letting me know you did!
5- For TWO extra entries, Blog about this giveaway and link it back to my blog AND the
Soda Stream Website
6- Follow me on twitter AND tweet about this giveaway. Please leave me the link in your comment where you "tweeted" about the giveaway. Just following me does
7- For FIVE extra entries, purchase anything from the
Soda Stream Website
before the end of this giveaway.
8- Add my blog to your technorati favorites! (click on the button in my sidebar) Leave a comment letting me know you did!!
Contest ends at 11:59pm EST on February 4th when I will draw a winner at random. PLEASE leave your email address if it is not visible on your profile. I will notify the winner on February 5th and they will have 36 hours to respond before I will choose a new winner!
Continental U.S. and mainland Canada Only. No AK, HI, PR or APO addresses, nor any maritime provinces.
Don't forget to enter all my other giveaways listed on my sidebar!