Some of you probably remember me telling you about
Sock Grams
a few months ago. I've been able to give away three pairs of socks for them on my blog!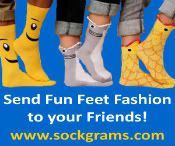 Sock Grams is an EXTREMELY affordable way to send gifts to friends and family for ANY occasion! They have socks for anything from weddings and job promotions to Christmas and Valentines Day! They are ALL under $11.95 and shipping is FREE!!!!
There are three steps to sending these cute sock grams:
1-browse through all of their socks by recipient, occasion, or even pattern!
2-choose a card and leave a cute message.
3-THEN they add FREE amazing foot balm(or stickers if you're sending socks to kids),wrap it, AND mail it to them!
I absolutely love this idea! I have two aunts that don't live near us and this is a fun way to let them know that I'm thinking about them! Flowers and candy can get expensive, but you can send an inexpensive Sock Gram as often as you want!
They have a huge selection of socks that include:
-Men's Socks
-Women's Socks
-Kid's Socks
-Baby Socks
-Birthday Socks
-Wedding Sock
-Humorous Socks
-Occupational Socks
-Socks For A Cause
-Socks For Every Holiday
-Sports Socks
-And MANY, MANY more
Sock Grams has given away a pair of Birthday Girl socks, Snowman Toe Socks, and Turkey socks on my blog!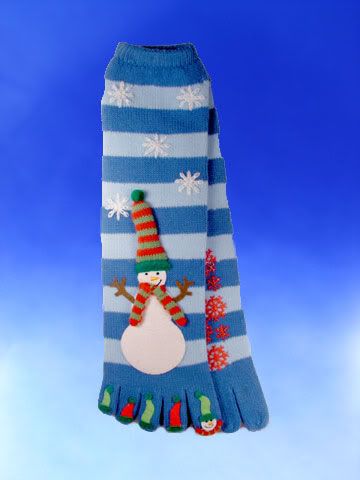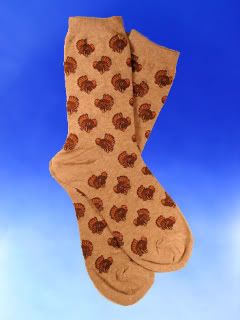 WIN IT!!
Heather from
Sock Grams
is offering a pair of socks to TWO winners!!!
Valentine's Day is coming up and they're going to give a pair of Valentine Toe Socks to one of my lucky readers!
Not only are they giving away a pair of Valentine Toe Socks to a lucky reader, but they are also giving ANOTHER one of my readers their favorite pair of socks that they tell me about in their comment!
To enter, visit
Sock Grams
and tell me what your favorite pair of socks are. If you are the second winner, those will be the socks that you win!
This is required for an entry into the giveaway and must be done before the extra entries count.EXTRA ENTRIES!
You can do any of these things for an extra entry. You can get up to ELEVEN EXTRA entries!! Make sure to leave a separate comment for EACH thing you do.
1- Follow my blog. Go over to my right sidebar and click on Follow This Blog! Current followers count too! Leave me a comment letting me know that you do!
2- Grab My "Bring In The New Year With Style" Button and put it on your blog!
3- You can now subscribe Via email...type your email into the box under my button and hit subscribe! Leave me comments letting me know you did!
4- For TWO extra entries, Blog about this giveaway and link it back to my blog AND
Sock Grams
!
5- Follow me on twitter AND tweet about this giveaway. Please leave me the link in your comment where you "tweeted" about the giveaway.
6- For FIVE extra entries, purchase any pair of socks from
Sock Grams
before the end of this giveaway!
Contest ends at 11:59pm EST on February 1st when I will draw a winner at random. PLEASE leave your email address if it is not visible on your profile, or make sure to check back here to see if you won. I will notify the winners on February 2nd and they will have 36 hours to respond before I will choose a new winner! U.S. Only.
Don't forget to enter all my other giveaways listed on my sidebar!
To get back to the Bloggy Giveaway Carnival, click
HERE
!