You've just had a baby and everyone says you should swaddle your baby in a blanket because it calms them. Well, my little man was big on crying and swaddling him really tight did help. The problem is, he would kick and come out of that blanket in no time! I don't care what size blanket we used, he would just come right out.
As most of you know, I'm pregnant with my second and have been on a search of products to make my life easier with a tiny baby and a toddler and to share them with you! I recently found the
Miracle Blanket
which would have helped me out so much with my first! It is designed to swaddle your baby and KEEP them that way! Your baby won't be able to make their escape from his blanket so you won't keep having to wrap them back up!
It is so easy to use that you will be able to do it with your eyes closed! There is an instructional video on their
website
. There are no buttons, snaps, knots, or Velcro for you to mess with! After only a few simple steps, your baby will be swaddled tightly.
Here is a picture of it unfolded so that you can see what it looks like on the inside!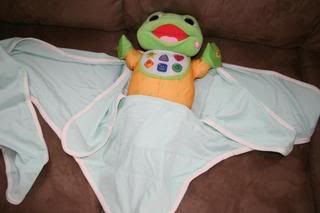 I was able to try the Miracle Blanket out on a 2 month old and was completely taken with it! Not only was it so easy to do, but the baby seemed so happy to be wrapped in it. He quickly fell asleep after we wrapped him! I am going to purchase another one so that I always have one ready with this baby.
Some features of the Miracle Blanket include:
-Made of 100% cotton
-Helps ease fussiness for ANY baby
-Helps prevent facial scratches
-One Size fits all up to four months
-Stops Colic
-Helps baby sleep
They are certain that you will be as happy with this product as I am that they offer a 100% Satisfaction Guarantee! If you are not happy with the Miracle Blanket, they will refund 100% of your purchase, including shipping!
It gets better, if your blanket is damaged in any way-even if it is your fault-they will replace it at any time for up to five months after your original purchase!
This is a company that completely believes in their product and you should as well! They have thousands of satisfied customers who haven given their testimonials on
this page
. You don't only have my stamp of approval, you also have thousands of other parents who back the Miracle Blanket!
I believe that every parent with a new baby should have the Miracle Blanket. It is a necessary item that will make their life so much easier! This blanket is proven to help babies to sleep better, so why not give it a try? Every new parent needs as much sleep as they can get!
Buy It
You can purchase a
Miracle Blanket
in many great colors for $29.95!
WIN IT!!
The fantastic people behind Miracle Blanket are giving a Miracle Blanket to one of my readers! The winner will get to choose which color they want!
To enter, visit
Miracle Blanket
and tell me what color you'd choose!
This is required and must be done before the extra entries count!EXTRA ENTRIES!
You can do any of these things for an extra entry. Make sure to leave a separate comment for EACH thing you do.
1- Put my new button on your blog! If you have my old Two Of A Kind Button on your blog, take it down and replace it with the NEW one! THANKS!!
2- Follow my blog. Go over to my right sidebar and click on Follow This Blog! Current followers count too! Leave me a comment letting me know that you do!
3- For THREE extra entries, Blog about this giveaway and link it back to my blog AND
Miracle Blanket
!
4- Follow me on twitter AND tweet about this giveaway. Please leave me the link in your comment where you "tweeted" about the giveaway. Just following me does
5- For FIVE extra entries, purchase a
Miracle Blanket
before the end of this giveaway.
6- Add my blog to your technorati favorites! (click on the button in my sidebar) Leave a comment letting me know you did!!
7- Subscribe via email to my blog. Type in your email address over to the left and hit submit! Don't forget to activate your account
Contest ends at 11:59pm EST on February 9th when I will draw a winner at random. PLEASE leave your email address if it is not visible on your profile. I will notify the winner on February 10th and they will have 36 hours to respond before I will choose a new winner!
Continental US And Canada ONLY!
Don't forget to enter all my other giveaways listed on my sidebar!