I nursed Evan and never had a nursing cover. At the time, I had honestly never heard of them. I was always ducking into dressing rooms or having to feed him in the car. It always seemed like such a hassle.
I recently found these adorable nursing covers from
Hiccup
. I was sent the camo one!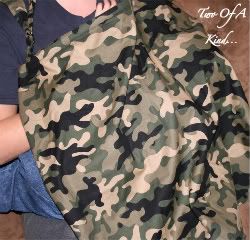 We weren't able to get a really good picture. Here is a good shot from
Hiccup's website
.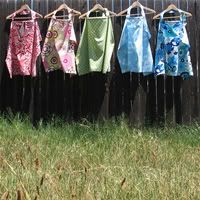 Features Of The Nursing Cover
- Lightweight 100% cotton so it wont get hot like blankets will
- Top edge is stiffening material to created a bowed collar that holds the fabric off your body so that you can see your baby
- Folds up really small so that you can fit it in your diaper bag, purse, or stroller
- 24 inches by 36 inches
- Adjustable neck strap
- Absorbent corner pocket
- Many great patterns to choose from
Hiccup also carries other fantastic products such as
burp cloths
,
diaper cases
, and
onesies
.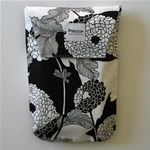 My Thoughts
I love this nursing cover! I will be using it all the time with this baby! Breastfeeding was sometimes just inconvenient when we were out or when family and friends where over. I spent so much time hiding! Now I can just pull the strap over my head and have privacy from everyone else, but will still be able to see the baby nursing. I love that it has an absorbent corner just in case I don't have a burp cloth right there with me when I need something to wipe the baby's mouth. I think that anyone who nurses would feel more comforable if they had one of these nursing covers. I also think it is neat that you can get a burp cloth to match your nursing cover from Hiccup!
Buy It
You can purchase the
Nursing Covers
for $30.
The
Diaper Cases
are $15.
WIN IT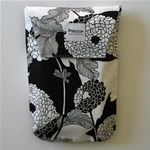 Hiccup
is giving a diaper case to one of my readers!
To enter, visit
Hiccup
and tell me what your favorite product is.
Be Specific! Tell me which fabric you want your favorite product in as well!
This is required for an entry into the giveaway and must be done before the extra entries count.
EXTRA ENTRIES!
You can do any of these things for an extra entry. You can get up to ELEVEN EXTRA entries!! Make sure to leave a separate comment for EACH thing you do.
1- Follow my blog. Go over to my right sidebar and click on Follow This Blog! Current followers count too! Leave me a comment letting me know that you do!
2- Grab My "Bring In The New Year With Style" Button and put it on your blog!
3- You can now subscribe Via email...type your email into the box under my button and hit subscribe! Leave me comments letting me know you did!
4- For TWO extra entries, Blog about this giveaway and link it back to my blog AND
Hiccup
!
5- Add my blog to your technorati favorites! (click on the button in my sidebar) Leave a comment letting me know you did!!
6- Follow me on twitter AND tweet about this giveaway. Please leave me the link in your comment where you "tweeted" about the giveaway.
7- Grab my regular Two Of A Kind, Working On A Full House button and put it on your sidebar!
8- For THREE extra entries, purchase anything on
Hiccup
before the end of this giveaway. Don't forget to leave a comment letting me know what you got!
Contest ends at 11:59pm EST on January 31st when I will draw a winner at random. PLEASE leave your email address if it is not visible on your profile, or make sure to check back here to see if you won. I will notify the winners on February 1st and they will have 36 hours to respond before I will choose a new winner! U.S. Only.
This giveaway is ONLY for the Diaper Case.
To get back to the Bloggy Giveaway Carnival, click
HERE
!