I have found that there are many bibs that just don't do their job! They don't absorb, they still get food on your baby, and they just don't fit right!
Let me introduce you to
DaBib
! I have put one of these bibs to the test with Evan and I am in love! It is by far the best bib that I've ever used! It is large enough to cover his whole front and has a lip to catch any extras!
Features of DaBib
-DaHugs has micro fiber terry cloth front
-DaGiggles has a waterproof front
-Waterproof back
-Reversible crumb catcher
-Scrunch neckline with adjustable Velcro
-Adorable fabrics
-Machine washable
DaBib carries two different styles. The
DaHugs
and the
Dagiggles
!
Here is Evan with His DaHugs! DaHugs can come in solids or prints!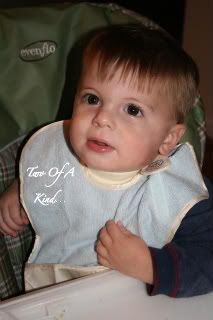 Here is a Dagiggles bib.
My Thoughts On the DaHugs Bib
I got the blue solid Dahugs Bib and it has been fantastic! We have had it for a month now, and use it all the time! Since Evan is learning to feed himself, he is making bigger messes! The collar of this bib can be adjusted to fit snugly to your baby at any age so no food can escape!
The crumb catcher is reversible, so you can flip it to the back if you don't want to use it. Right now, we DEFINITELY need the crumb catcher!
There aren't many bibs that fit Evan anymore and I am impressed with how large this bib is! Just look at the picture of Evan, it completely covers him! This bib is made to grow with your baby for a very long time!
As a mom, I especially love that you just throw the bib in the washing machine and it comes out looking great! No hard work involved!
Any mom would be happy with this bib!
Buy It
Each of the different styles of the
DaBibs
are $12.99!
You get FIVE extra entries for EACH bib that your purchase before the end of this giveaway!WIN IT!!
DaBib is offering a bib to one of my readers in the style and color of their choice!!
To enter, visit
DaBib
and tell me which style and color you would choose!
This is required for an entry into the giveaway and must be done before the extra entries count.EXTRA ENTRIES!
You can do any of these things for an extra entry. You can get up to ELEVEN EXTRA entries!! Make sure to leave a separate comment for EACH thing you do.
1- Follow my blog. Go over to my right sidebar and click on Follow This Blog! Current followers count too! Leave me a comment letting me know that you do!
2- Grab My "Bring In The New Year With Style" Button and put it on your blog!
3- You can now subscribe Via email...type your email into the box under my button and hit subscribe! Leave me comments letting me know you did!
4- For TWO extra entries, Blog about this giveaway and link it back to my blog AND
DaBib
!
5- Follow me on twitter AND tweet about this giveaway. Please leave me the link in your comment where you "tweeted" about the giveaway.
6- For FIVE extra entries, purchase a bib from
DaBib
before the end of this giveaway. You will want more than one of these! You get FIVE extra entries for EACH bib you purchase! Don't forget to leave a comment letting me know!
Contest ends at 11:59pm EST on February 1st when I will draw a winner at random. PLEASE leave your email address if it is not visible on your profile, or make sure to check back here to see if you won. I will notify the winners on February 2nd and they will have 36 hours to respond before I will choose a new winner! U.S. Only.
Don't forget to enter all my other giveaways listed on my sidebar!
To get back to the Bloggy Giveaway Carnival, click
HERE
!