In the
Boon Giveaway Part 1
, I told you about how much I love boon products and how they give to charities benefiting children. They are also giving away a Frog Pod on my blog, so click on the link above.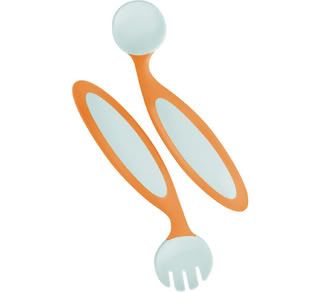 We had a chance to review these amazing Bender Utensils! My little man is still the beginning stages of learning to feed himself. I think every toddler has an awkward grip on their utensils. My toddler holds his at a little bit of an angle so food doesn't always get on and stay on.
With the Bender Adaptable Utensils, you can bend the ends so that it is in an angle that compliments the way your child holds it. This makes it easier for them to pick up their food with a spoon or fork and gives them a sense of accomplishment so that they are encouraged to continue feeding themselves! As your toddler gets better, you can continue to bend the end a little at a time until it is straight!
These utensils are BpA-free, Phthalate-free, and PVC-free. You know that your child is completely safe while using them! They are also dishwasher safe which is a HUGE plus in my book!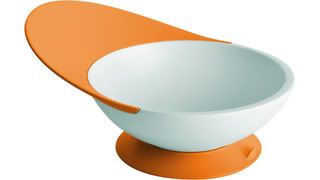 When I opened the Catch Bowl, I was immediately impressed! I threw it in the dishwasher so we could use it that night! It is one piece and only requires to be thrown int he dishwasher to get clean! A big mess usually accompanies a toddler who is learning to self feed! We've found a great bib, but there is always a huge mess on the table or high chair as well!
The Catch Bowl is designed to stay in place! The suction on the bottom stays to the high chair so it doesn't move all over while your toddler is trying to pick some food up with their spoon.
My favorite feature of this bowl is the Spill Catcher! The food catcher is flexible and rounded so any food that is dropped while on the way to your baby's moth goes right back into the bowl!
The design is absolutely genius! It is flexible so that when you toddler bumps the edge, it bends and doesn't move because of the suction under the bowl! To add to all those safety features, it is also BpA-free, Phthalate-free, and PVC-free!! The Catch Bowl is ideal for ages 9+ months.
This is a picture of my little eater using the Benders and the Catch Bowl!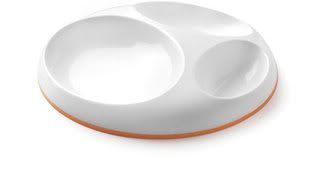 The Stay-Put Saucer is great for when you have various foods that need to be separated. Using a plate can be difficult since smaller toddlers like to move the plates around.
The Saucer has many features to ensure that it stays on your baby's tray! It is edgeless so there is nothing for your child to pick up! The bottom is slip resistant to keep the Saucer in place!
To make you feel more at ease, it is also BpA-free, Phthalate-free, and PVC-free! The Saucer is 7" in diameter and 1" deep. To help mom out, it is dishwasher safe as well!
My little man loves his Independence from feeding himself and I can make sure he's using a plate that he can't easily tip over to make a mess of dinner! The dividers are great at keeping the food separate so that he can learn to distinguish his food and not have it mix all together when he tries to pick it up with his spoon!
The last three feeding tools are essential to any new self feeder! All can be used at 9+ months and makes mom's life easier!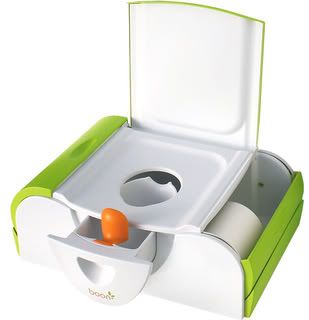 It is almost Potty Training time in our house! I think one of the keys to success is making it fun!
The Potty Bench looks like it would make life so much easier! Not only is it a fun looking potty, but if you close the lid, it can be used as a bench that supports up to 300 pounds! This Potty Bench can be used for YEARS and YEARS in your house!
The sides can hold any of your potty training necessities such as toilet paper and pull ups. I love that there is storage so that you have everything you need ON the potty.
This potty looks so easy to use! Just pull out the drawer for easy clean up. It also has a soft and flexible deflector to help against injuries.
The Potty Bench is recommended for 18+ months.
Buy It
The
Benders Adaptable Utensils
are $5.99.
The
Catch Bowl
is $6.99.
The Saucer
Stay-Put Divided Plate
is $5.99.
The
Potty Bench
is $34.99.
WIN IT!!
Boon
is offering one of my readers a Potty Bench!!!
To enter, visit
Boon's Website
and choose your favorite product! Come back here and tell me about it!
This is required for an entry into the giveaway and must be done before the extra entries count.EXTRA ENTRIES!
You can do any of these things for an extra entry. You can get up to TWELVE EXTRA entries!! Make sure to leave a separate comment for EACH thing you do.
1- Follow my blog. Go over to my right sidebar and click on Follow This Blog! Current followers count too! Leave me a comment letting me know that you do!
2- Grab My "Bring In The New Year With Style" Button and put it on your blog!
3- You can now subscribe Via email...type your email into the box under my button and hit subscribe! Leave me comments letting me know you did!
4- For TWO extra entries, Blog about this giveaway and link it back to my blog AND
Boon
!
5- Follow me on twitter AND tweet about this giveaway. Please leave me the link in your comment where you "tweeted" about the giveaway.
6- For FIVE extra entries, purchase anything from
Boon
before the end of this giveaway!
7- Put my regular Two Of A Kind, Working On A Full House button on your blog! Leave a comment letting me know it is up!
Contest ends at 11:59pm EST on February 1st when I will draw a winner at random. PLEASE leave your email address if it is not visible on your profile, or make sure to check back here to see if you won. I will notify the winners on February 2nd and they will have 36 hours to respond before I will choose a new winner! U.S. AND Canada!
Don't forget to enter all my other giveaways listed on my sidebar!
To get back to the Bloggy Giveaway Carnival, click
HERE
!